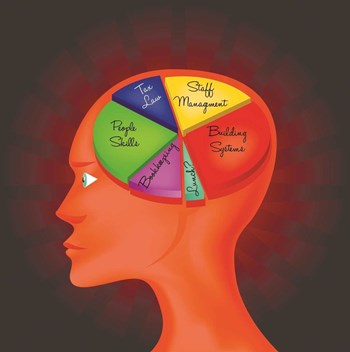 Property managers are known for wearing many hats, and are expected to be expert in some very diverse topics. Few of them, however, train for and begin their careers as property managers; most came into the industry from other fields. Managers can be anything from ex-teachers to ex-electricians, and often admit to picking up skills "on the job."
Not that there's anything wrong with that, but today's association boards and management companies expect professional managers to meet professional standards, and experts agree that those standards require at least a basis of formal education or training.
Paul DeGennaro, owner of Ingleside Associates of Fairfield, Connecticut, notes that educational programs for property managers have generally been provided by real estate professional organizations such as IREM (Institute of Real Estate Managers) and community association groups, especially CAI (Community Associations Institute), and "there has been some competition between the two." He notes that several years ago, "Connecticut instituted a certification requirement for property managers. This is an incredibly good idea," although certain aspects are still being ironed out. "We're working with the legislature to understand the differences (among educational resources)," he adds.
The law in Connecticut states, "Any person who provides management services is required to register with the Department of Consumer Protection and submit to a state and national criminal background, complete a nationally-recognized course on community association management, and pass the Community Association Managers' International Certification Board (CAM-ICB) Certified Manager of Community Association (CMCA) examination." The other states which have passed laws and regulations governing the practice of community association management include: Alaska, California, District of Columbia, Florida, Georgia, Illinois, Nevada and Virginia.
Even given such stringent requirements, DeGennaro contends, the criteria for being a good property manager goes beyond education or experience. "Regardless of (managers') backgrounds… more importantly, are they honest, and ethical, and do they know what they're doing? That's where education fits in, but honesty and ethics are really the most important. It's the combination (of) doing the right thing and doing the thing right. The financial responsibility, especially, is really a personal trust… you're handling funds for all those unit owners… They're paying fees each month and depending on the manager" to watch over their interests and investments.