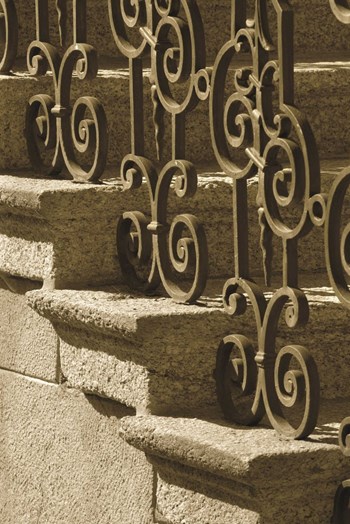 American history is littered with tales of ornamental metal work dotting Boston's architecture. From railings to cornices to balconies to windows, decorative metal was all the rage in the late 1800s and early 1900s, but has taken a backseat to both stone and brick in the days hence. That said, there is still a place for metal to be used in a purely stylistic fashion amid the condominiums of New England, and various architects and craftsmen are both reinventing the form and adhering to the classic styles of yore, all in effort to keep an area known for its vibrant residential work alive and well.
"I think that, as a designer, we try to keep things a little more simple these days," says Marc Hershman, a principal with MSH Architects in Newton. "There's an over-concern that too many objects that protrude from a façade, when combined with inclement freezing weather, can be problematic."
Some explanation for the decline of ornamental metal work can be attributed to the economy, as these types of designs tend to thrive in boom periods, when the economy is robust. As Hershman says, "you would have more ornament or more exploration of unusual detailing on the public buildings where you have this luxury of budget, and the end user isn't a collective of numerous clients." The very nature of a home owner's association prohibits extravagant spending on decorum, metal work included.
That said, the areas that do have somewhat of a deeper purse at their disposal are those most likely to still court decorative metal work. Chad Allen, project manager at DeAngelis Iron Work in South Easton, cites Cambridge, Wellesley, Weston, Marblehead and Swampscott as some such areas. And architect Alfred Wojciechowski, principal of CBT Architects in downtown Boston, specifically pinpoints Back Bay as a hotbed for ornamental metal work, both classic and contemporary.
"In Back Bay, you'll see much copper as used to create ornamental cornices," Wojciechowski says. "There's copper work on the roofs and bay windows. You're likely to see a tremendous amount of copper as an ornamental metal there, as well as around Commonwealth Avenue, Marlboro Street, Beacon Street and Boylston."