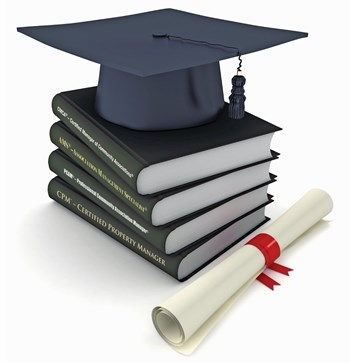 These are hardly the best of times for those who manage community associations, charged as they are with overseeing financial well-being, maintenance goals, legal issues and an almost unpredictable kaleidoscope of other daily concerns, in an economy stressed by many months of lean times.
On the positive side: When has there been a better opportunity to face the kind of experience only hardship can provide? That said, managers are rapidly concluding that the trenches aren't always the best classroom, and are heading for more organized venues.
Property managers and association leaders are seeking broad, in-depth training for the many hats they wear, in what's become a complicated scenario. Membership organizations and colleges have responded, offering a variety of options ranging from bachelor's degreestudies to continuing education certification programs. The industry itself offers well-tooled programs to deal with the problems facing managers, as well as offering advanced levels of certification for those making a career of residential property management.
CAI Offerings
The nationwide Community Assoc-iations Institute (CAI), in Alexandria, Virginia, overlooks a system of state and regional chapters, each providing managers with course opportunities and peer contacts. Published materials and continually updated classes are available. Frank Rathbun, CAI vice president of communications and marketing, says CAI certification courses delve into increasingly specialized challenges, critical for career growth among managers –but equally important to those who reside in housing communities.
Ann-Marie Johnson, director of education operations and credentialing at CAI, says residents also have much at stake in having certified managers. "For homeowners, it's knowing that the manager has the fundamental knowledge in any situation (when to call an attorney, how to handle a situation) –and that he or she has to abide by the CAI's Code of Ethics."