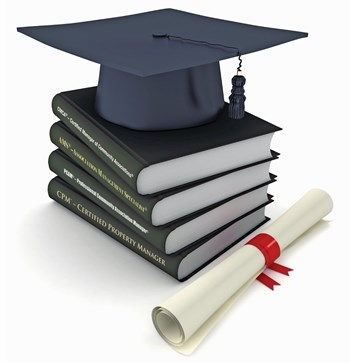 These are hardly the best of times for those who manage community associations, charged as they are with overseeing financial well-being, maintenance goals, legal issues and an almost unpredictable kaleidoscope of other daily concerns, in an economy stressed by many months of lean times.
On the positive side: When has there been a better opportunity to face the kind of experience only hardship can provide? That said, managers are rapidly concluding that the trenches aren't always the best classroom, and are heading for more organized venues.
Property managers and association leaders are seeking broad, in-depth training for the many hats they wear, in what's become a complicated scenario. Membership organizations and colleges have responded, offering a variety of options ranging from bachelor's degreestudies to continuing education certification programs. The industry itself offers well-tooled programs to deal with the problems facing managers, as well as offering advanced levels of certification for those making a career of residential property management.
CAI Offerings
The nationwide Community Assoc-iations Institute (CAI), in Alexandria, Virginia, overlooks a system of state and regional chapters, each providing managers with course opportunities and peer contacts. Published materials and continually updated classes are available. Frank Rathbun, CAI vice president of communications and marketing, says CAI certification courses delve into increasingly specialized challenges, critical for career growth among managers –but equally important to those who reside in housing communities.
Ann-Marie Johnson, director of education operations and credentialing at CAI, says residents also have much at stake in having certified managers. "For homeowners, it's knowing that the manager has the fundamental knowledge in any situation (when to call an attorney, how to handle a situation) –and that he or she has to abide by the CAI's Code of Ethics."
"There's no question that most (managers) are doing a very good job," Rathbun adds, "but clearly those who have taken CAI courses can bring something additional to the table." Training based on experience provides the foundation for better performance in difficult situations, he said. "Running a community association is not easy; it's a professional job that requires many types of skills and different kindsof knowledge. It's a complicated job, and we have to make sure our courses keep up with the trends."
The costs for CAI's or similar training programs are often borne by the management companies or community associations employing managers. Some of these courses may be taken at home, in available time. Others are offered in regional venues.
Walter Williamsen of Reserve Strategies – a financial and capital planning consultant for condominium associations based in Connecticut – has been active within CAI's Connecticut chapter for years, and has lengthy experience in managing condominiumcommunities. He strongly favors training to help managers or board members stay current with changes, as well as handle ongoing concerns.
About 20 percent of board members take such courses, he says. "But they're really into it, and they absolutely benefit from it." One course in particular, the M-100, is for new board members or managers – a primer for newbies, he calls it. M-100 contains the elements of management and serves as an ongoing guide. Property managers looking for their first designation will often will take the M-100 and the follow-up examination to achieve the CMCA (theCertified Manager of Community Associations).
"It's soup to nuts," Williamsen said of the course. "Contracts, maintenance programs, board members' roles, the differences between condominium associations, co-ops, planned unit developments." CAI's three-day course skims the book by way of introduction, but more extensive information is considered in subsequent courses.
Attorneys are often presenters. "(Members) like getting attorneys to talk about what's happening with finances, the FHA, Fannie Mae, insurance, and so on," Williamsen said. Members also seek courses on self-management versus using professional management companies, preferring to tackle governance themselves. "Some of them do a very good job," he adds.
Since 2000, more people have been attracted to seminars at trade shows, such as the New England Condominium Expo, which this year will be held on Tuesday, May 24 at the Seaport WorldTrade Center in Boston. Admission and educational seminars at the show are free.
Manager Designations
The professional designations available through CAI in its Professional Management Development Program (PMDP) apply to different levels of experience and study in the field:
Certified Manager of Community Associations (CMCA) – the first step in national certification, based on successful completion of the M-100 course (The Essentials of Community Association management) and passing the CMCA examination.
Association Management Specialist (AMS) – the second tier in training for association managers, earned by passing the basic M-100 course and a 200-level PMDP course, completing two years' experience and obtaining andmaintaining the CMCA certification.
Professional Community Association Manager (PCAM) – the highest professional recognition, earned after completing the first two tiers, passing six 200-level courses, doing a case study, and completing five years or more of community association management.
Large-Scale Manager (LSM) – a specialist designation considering the unique differences in managing very large properties. Candidates must have earned the prior three designations, be involved in industry-specific educationand leadership, and be working as a manager of such properties.
IREM, Boston
Courses through the Institute of Real Estate Management's Boston-based chapter are geared to real estate professionals managing all types of properties. IREM also offers the following certification: Certified Property Manager (CPM), Accredited Residential Manager (ARM), Accredited Commercial Manager (ACM), and the Accredited Management Organization (AMO), which is awarded to property managementfirms.
Early-year 2011 sessions will cover the state of the economy, commercial lease law, ethics, real estate maintenance, marketing and leasing strategies, fair housing and more.
Kelley Hannon, association executivein Boston, says the organization's on-going lead paint law sessions are popular. IREM brings in EPA-certified instructors for this course, held twice weekly.
"We run sessions on commercial lease law, condo law, and a boot camp for property managers," Hannon said. An attorney will explain liability issues there. Plus, there are sessions to explain LEED [Leadership in Energy & Environmental Design] procedures – for certifying that a facility is green, and just how green, by EPA standards, she added.
"The session on condo law would be good for board members to attend, as well as setting up an emergency plan and learning about the lead paintlaw," she said. "If they're hiring contractors to come in, they really need to be certified."
In general, IREM courses are kept inexpensive to encourage board members, maintenance personnel and othersto attend. Scholarships are available; information is on IREM's website (www.irem.org).
IREM Boston's 2011 Chapter Presi-dent Jeanmarie O'Brien of Corcoran Jennison Management Co. in Lynn, Massachusetts, has 20 years of real estate management experience. She earned her CPM certification while working. "I started right away taking IREM courses," she said. There being no online classes in those days, she traveled to Massachusetts, Connecticut and Rhode Island while juggling family life and work. "It's been a huge part of my career, in understanding my job and having much more understanding of the owners' goals and objectives, and how to attain those for them, and maintaintheir properties in a professional manner."
She also recognizes the value of today's online environment for easier participation. "IREM is strongly grounded in their education and their designations. A CPM is like the CPA of its field. It adds to the value you bring to the company that you work with, and manage assets for." In 2011, she said, IREM is planning even moreaccessible methods for coursework.
College-Level Studies
Want to go the in-depth route to better management, by taking college-level courses related to real estate management? Two such programs are at Bentley College in Waltham, Massa-chusetts and Curry College, in Milton,Massachusetts.
Bentley offers financial planning andundergraduate- and graduate-level classes in business and non-business law, available as one-week intensives, or within the traditional semester programming. A law minor may be the ideal tool for learning the legal and ethical implications of board management actions.
At Curry College (campuses in Milton and Plymouth, Massachusetts), professional development courses on the continuing education spectrum include negotiation techniques, leadership, teamwork, business law and more.
Curry's Residential Property Manage-ment Program (in Milton only) provides certification aimed specifically at the issues and operations of multi-family residential property management. The program covers specifics of managementand skills needed for working with residents. It can be taken alone or combined with bachelor's degree-level studies. For instance, a bachelor's in management, with focus in areas of residential property management, is available.
Steven Belaief, senior director of Curry's Division of Continuing and Graduate Studies, says Curry initiated programs in 2005, after many requests. "There never was a professional education track for people to get into the property management field," Belaief said. "As an analogy, many years ago the same thing was true for the hospitality industry, and a whole slew of programssprang up for that career track."
"Over the last ten years, Virginia Tech has had a degree program in residential property management," he said. "We decided instead to offer a concentration within our degree program. Those who have a degree can take a similar curriculum and get a certificate in residential property management." Curry's degree in Certified Apartment Management prepares graduates to handle various housing development needs, from senior living to dormitories, military bases, condos, and subsidized housing.
Curry has seen an increasing number of students pair study with a management degree – and, he says, there's a strong demand for them. "We're offering it through continuing education for non-traditional adult students, and have had steady interest in it from that group, but we've just started integrating it into the regular full-time day curriculumfor traditional students."
That alternative, he said, provides internships to students nearing graduation. "They're clamoring for these people in the industry, because most people out there now found their way into the industry from different fields – real estate, leasing, maintenance, development. But the value of these properties has grown tremendously over the years and it's a big job to put someone in charge of a multi-million dollar asset and make sure it's properlymaintained, the tenants are happy, improvements are being provided. It takes expertise to manage it all."
Ann Connery Frantz is a freelance writer and a frequent contributor to New England Condominium magazine.