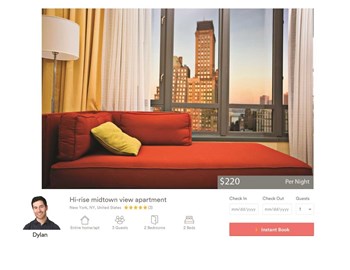 The media and political buzz surrounding so-called 'homeshare' or 'short-term rental' websites (primarily Airbnb, but also other similar services like Homeaway.com and VRBO.com, just to name two) has been on the upswing over the last year or so. It sounds like a perfect arrangement; You go on vacation, and rent out your home while you're gone—you get a house sitter who pays real money, instead of the other way round.
Or, you stay home, and rent out your spare room—making a few hundred (or even a few thousand) dollars without doing anything more than washing your extra set of sheets and wiping down the counters. It's all part of a growing trend called homesharing, which is taking so-called 'destination cities' by storm.
An Ideal Idea?
Homesharing is especially popular—and controversial—in major cities like Boston and New York, where rents are ridiculously high. In Beantown, for example, you can rent everything from a luxurious penthouse apartment complete with a private roof deck and Jacuzzi in the North End of Boston for $200 a night to your basic comfy couch in a room in Somerville for $30 bucks a night. Indeed, for renters and for those doing the renting, when it comes to homesharing, the sky's the limit in terms of what you can get for your money, and how much cash you can make.
But while thousands of apartment owners in cities like Chicago, New York, Boston and San Francisco love being able to monetize their units by renting an extra bedroom (or even their whole place, if they're out of town) to a visitor or tourist, condo and HOA boards and management are typically less enthused about the trend. A constant stream of non-resident visitors raises security concerns, adds wear-and-tear to common areas, and complicates the enforcement of house rules. Depending on the city, short-term rentals may also run afoul of zoning and hospitality laws.
Homeshare History...and the Law
The biggest player currently in the homesharing game is without question San Francisco-based Airbnb Inc. Founded in 2008, the service allows anyone to list their house, condo, spare room, couch, boat, treehouse or any other living area for short-term rental. More than 9 million people in 34,000 cities have checked out Airbnb—with more than 500,000 listings across the world—so this trend is certainly not shrinking or going away.