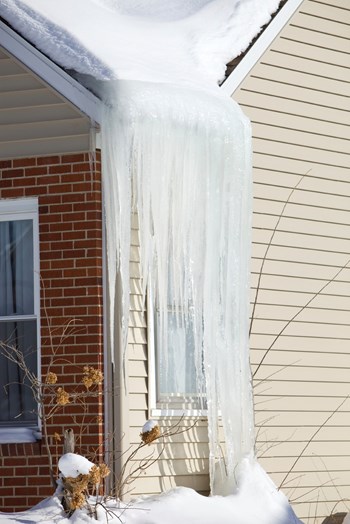 The birds are chirping, the trees are plush and green, and the beaches are lined with people. The record-breaking winter of only a few months ago, when inch after inch of snow piled up in New England, causing trouble for roads, businesses, and private homes—it's hard to believe it ever happened. Summer months can offer their own insurance-related woes, like flooding and wind damage—but if last winter signified anything, it's that New Englanders may need to start taking extra precautions against those below-freezing scourges. One primary culprit? Ice dams.
As many homeowners rudely found out: anice damis a ridge oficethat forms at the edge of a roof and prevents melting snow from draining off the roof. The water that backs up behind thedamcan leak into a home andcausedamage to walls, ceilings, insulation, and other areas.
For property managers and associations, John Raymond, president of JNR Gutters, Inc. of Haverhill, Massachusetts, offers some sage advice. He warns that memory is fleeting and prevention is the best solution. "Pretty much every condo can get ice dams, and then winter comes along and condo boards often take too long to figure out what to do. The problem is, people will forget over the summer, that this is a recurring problem… We had the same (ice dam) issues in 2011 and 2007," Raymond says.
Insurance On Ice
Every New England homeowner has had some run in with cold-related damage. After last winter, many homeowners saw enough damage from the elements that it made sense to file a claim. Even insurance professionals were blown away with the explosion of claims among their condo association clients. Some form of coverage for snow and ice damage is a standard item in master policies for condo associations, and unit owners typically include it in their individual policies as well, says Brendan Kilcoyne, sales executive at H&K Insurance of Watertown, Massachusetts. He reports that, "We saw up to 95 percent of the units in a condo community affected by snow and ice damage this winter. In one place near Boston, with 144 units with three or four units per building, at least 82 homeowners filed claims, and this property was built in the early 2000s. Any kind of potential roofing issue was amplified this year," he added.
"At another community, there were 26 out of 60 units affected, with water damage on ceilings, walls, floors… even wet insulation, which can become a real problem with mold. In this case, the master policy paid for the bulk of it." The major caveat with ice damage coverage is the deductibles, he says, since, "There might be a $5,000 deductible which customers choose… to avoid raising the premium. Deductibles can be anything from $500 on an individual unit up to $15,000 on a master policy for the association."