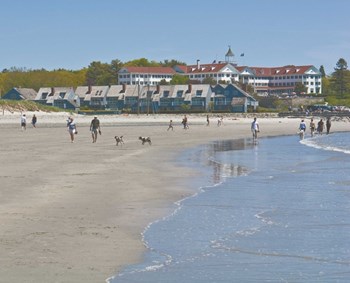 Kennebunkport, Maine, is a destination. People visit or relocate there on purpose. Since 1602 when colonial fishermen spent their summers along the Kennebunk River, until the present day when former presidents and other solace-seekers come to spend time in favorite haunts, people have been setting their sights on the area as a haven. Some find themselves fortunate to remain in that haven all year round, while others return like migratory birds, to enjoy the beauty of the landscape and the architecture, as well as to escape the stresses of their daily lives.
First Visitors
Before any permanent dwellings had been built in the locale, fisherfolk camped out on the islands offshore, catching fish and drying them there. These summer fishermen might have been the first to visit the area, go away, and return again. Later, the settlement became a trading center, and then a shipping and shipbuilding center. Meanwhile, however, it was also becoming something of a tourist hotspot. Even in the early 1800s, the Kennebunkport Beach was lined with summer hotels. People arrived by rail, often with staff and extended families. They settled at the beach for the summer season, and at the end of it, everyone went home.
According to the Kennebunkport Historical Society, "By the 1880s, its natural beauties and convenient beaches made Kennebunkport one of the more popular and prominent resorts of the Maine coast, a distinction which it still holds." Some sources claim Kennebunkport as "one of the most romantic vacation areas in the Northeast." Others view it as one of the most expensive ones, largely due to the presence of the impressive estates along Ocean Avenue, for example, and because it is the location of the family vacation home of former president Bush. Certainly the town has its share of wealthy summer visitors. In reality, however, vacationers from all walks of life come to visit its shores, whether to enjoy the beach, the seaside walks, the history or the autumn foliage.
Taking into account the significant tourist presence of the town, former innkeepers and current real estate brokers Rick and Janet Wolf locally represent a company specifically targeting the real estate needs of hoteliers, The B&B Team. Not content only to help potential innkeepers find properties, they also provide training seminars and other resources to help their clients run successful bed and breakfasts and inns.
Wolf is clearly passionate about both his current business and his former one, and he speaks eloquently of the place of bed and breakfasts in the Kennebunkport community. He cites Kennebunkport as a specifically appropriate location for such business, both because of its history and also because of its exceptional landscape and location. Furthermore, he says, people there have had the imagination and foresight to preserve and maintain the wealth of beautiful and historic buildings in the area, so there are many likely properties for the hospitality business. He further asserts that "some of the best B and Bs in Maine are in Kennebunkport," and that they have raised the bar for innkeepers in other areas.
The B&B Team recognizes the deeply personal aspect of both their own work and that of their clients. Wolf says it is paramount for innkeepers to understand what the traveling public is looking for. A beautiful house with sumptuous rooms and an inviting host encourages guests to return and recommend the inn to their friends. Very often innkeepers are providing a service and a respite for the harried residents of more stressful environments, and The B&B Team takes this knowledge very seriously, communicating these truths to their clients through their services.
Almost ironically, the transitory nature of much of Kennebunkport's "population" is what fuels the community the rest of the year. Its long-term effects over many decades have created a distinct populace that remains in the area when the tourists have gone home.
Enduring Settlement
Although the fishermen first visited Kennebunkport temporarily, eventually a more permanent settlement sprang up. First under the jurisdiction of a much larger colonial-era Massachusetts, the town was originally incorporated as "Cape Porpus," and even in the present day, that former center of the town has kept "Cape Porpoise" as its name.
In 1689, the town was emptied out by conflict with the local Indians, but in the early 1700s, permission was given to restart the community. At that stage it was named "Arundel," and its center shifted to reflect the increase in agriculture at the time. After its further transformation to a busy port with a custom house, the town was renamed again, this time "Kennebunkport." Shipbuilding became a major industry on the Kennebunkport River, and the center finally moved once more, to its present locale. The Historical Society states that at this time, "The community became the second richest in the state, graced by the noble dwellings built by the prosperity of ship captains, owners, and builders."
Now full-time residents of the town engage in other forms of business, although some fishing still does take place at Cape Porpoise. In-town people run bed-and-breakfasts, and work in banking, real estate, and other financial endeavors. The University of Maine and the University of New England have campuses nearby which also provide employment for locals. Other major employers in the area include Unum, William Arthur, and Corning.
Kennebunkport residents, if not working in town, commute to Portland and Scarborough, Maine, or Portsmouth, New Hampshire, each of which is only thirty minutes away by car. Some people even commute to Boston on a daily basis. The town is served by Routes 1, 9, 35 and 109. For those who wish to travel further afield, Portland International Jetport, Manchester Airport, Logan International Airport, and even Portsmouth's Pease International Tradeport are not too far away. Limousine and taxi service allow transport to and from the airports, and also to Wells, Maine, where the nearest Amtrak station is situated.
As mentioned, real estate is a common career for residents of Kennebunkport. With the old sea captains' houses and the more modest shipbuilders' homes usually available for conversion there is already a wealth of beautiful property in the area. Meanwhile John Downing, of Downing Real Estate Agency, claims that most new construction in Kennebunkport and its surrounding area is condominiums (he estimates that condos account for 35 to 40 percent of his sales.) There are many cape and townhouse units available, as well as the units in developments. Downing says that 90 percent of his condo sales are to year-round residents, and that many of these are retirees from all over New England.
Tax assessor's assistant Lorraine Brooks states that there are 222 condominium units within the town of Kennebunkport, in contrast to 2,190 single-family homes. She cites developments such as Point Arundel and Arlington Arms as ranging from $300,000-400,000, with others in the area starting at $200,000.
Distinct Communities
In spite of Kennebunkport's small size (3,720 people in 2000) and little ethnic diversity, its distinct subsections each have a flavor all their own. For example, Cape Arundel retains its charm as a nineteenth century resort. Cape Porpoise, on the other hand, has become much more of a year-round community since its days as primarily a fishing village, due in large part to an active church, a year-round grocery store, and several restaurants which remain open longer than the usual tourist season. Many retired people and artists live in that community.
The Chamber of Commerce proudly states, "Artisans have flocked to the Maine Seacoast for centuries and some of the finest galleries and performers in the Northeast are found in [Kennebunkport and its neighbor, Kennebunk]. The work of painters, jewelers, potters, weavers, wood workers, boat builders and other crafters is on display and alive in studios." Notable former resident writers include Margaret Deland, Kenneth Roberts and Booth Tarkington. Present-day artisans in town often run galleries out of Dock Square.
The town is rightly proud of its safety, its good schools and its caring and involved citizens. In December of each year, the town hosts its now-famous "Christmas Prelude" event. The Prelude was started in 1982 by business people in order to thank Kennebunkport residents for their support. The festivities now include tree-lighting ceremonies, art and craft fairs, various programs and food venues. Due to the vast number of people who work to make it happen, it truly constitutes an act of community involvement.
Other public events are held throughout the year, such as the annual June festival, "Kennebunkport Arts in the Inns," where local artists and local innkeepers work together to showcase their finest work. Meanwhile, the museums offer glimpses into more art, or into the past, and places such as the Seashore Trolley Museum put on their own community events. Meanwhile, the beaches alone exert their own pull on the populace and visitors alike.
In short, whether one stays in Kennebunkport for a weekend or for a lifetime, the community will be warm and the surroundings will be beautiful. It is no wonder people have been setting their sights there for centuries, and it is sure they will continue to do so for many years to come.
Jennifer Grosser is a children's book author and freelance writer living in Charlton, Massachusetts.