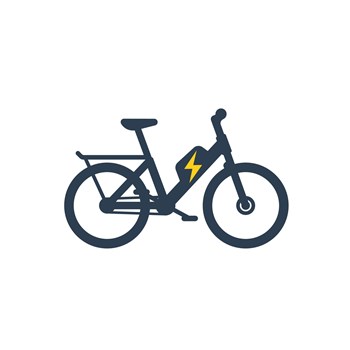 Anyone watching the news lately knows that rechargeable lithium-ion batteries - the kind that power e-bikes and scooters, but also electric cars, laptop computers, cell phones, vape pens, and many other common devices - have become a real danger. Improperly charged or stored, the combustible batteries can start fires, and even explode in some situations.
It's a serious issue, and as city and state legislators hammer out regulatory legislation at the governmental level, co-op, condo, and HOA boards are looking into how to protect their communities.
A Little History
While reports of lithium battery fires have been around for as long as the technology has been in use, it wasn't until battery-powered bikes and scooters became a fixture of the urban landscape during the pandemic that the issue ignited (literally). When demand for food delivery skyrocketed in the spring of 2020, New York City passed an ordinance legalizing battery-powered bikes (which until then had been outlawed) to help restaurants survive the crisis.
While the pandemic is receding, e-bike use has become almost universal among food delivery workers. While it's unlikely that e-bikes will be re-banned any time soon - restaurants are a vital part of the economy, and depend on them to survive - fires caused by faulty batteries, human error, or both have skyrocketed.
According to Stephen H. Orel, an attorney with the Manhattan-based law firm Schwartz Sladkus Reich Goldberg Atlas, to date, "The New York City Council has passed five measures dealing in some way with lithium-ion batteries in mobility devices. These bills went from introduction to passage in only four months with virtually no opposition. They did not directly address the responsibilities or powers of co-ops, condominiums, or rental apartment buildings, [but] several mandated various educational and reporting requirements. One prohibited sale of reconditioned used lithium-ion batteries, another banned sale of said batteries unless they had been listed by a nationally recognized testing laboratory such as UL, or other approved organization.
Across the Hudson, civic leaders are also tackling the problem. According to Steve Mlanek, an attorney with Greenbaum Rowe Smith & Davis, located in Iselin, New Jersey, "Some localities are prohibiting them, especially in Bergen County. Englewood Cliffs and Edgewater, for instance. The trend is spreading throughout the state," Mlanek says, but notes that there has not yet been any effort to ban the batteries at the state level.
Fire departments have also gotten involved. The FDNY directed all apartment building owners – that includes co-ops and condos, obviously – to distribute a four-page, full color pamphlet to all building residents and staff by April 30, 2023, which outlines and explains the dangers of bikes and other items which depend on lithium-ion batteries for power. The bulletin is also available on the FDNY website.
What Should Boards Do?
In the absence of strict rules set by local government or other authorities, what should boards consider when it comes to regulating lithium batteries in their buildings? E-bikes aren't the only devices powered by them - laptop computers and other rechargeable items are as well - so banning them outright is not practical. A board's ability to regulate the types of lithium-powered devices allowed on their premises may depend on the ownership structure of the building in question. In a condominium setting, boards have little control over what residents may do inside their units, while in a co-op setting they have more leeway.
"Some boards are banning e-bikes, scooters, etc.," says Orel, "while others are waiting for the City Council to pass legislation banning them, which may never happen. Boards that have decided to ban them have done so through the adoption of a house rule banning the storage, charging or use of specific categories of lithium-ion battery-powered devices anywhere in the building or apartments. Boards should bear in mind that mobility devices necessary for handicapped accessibility cannot be banned, so some care needs to be taken in defining the scope of any proposed rule."
"Right now," says Mlanek, "regulating battery storage inside units is specific to board authority, but they can regulate it on common area property - like a bike storage area, for example." Banning residents from keeping e-bikes in their own units is trickier, however. "It depends on how the bylaws are written, and whether they provide the association with the authority to regulate inside units." In the absence of a bill passed at the local or state level, "Boards should start with regulations in common areas and go from there," says Mlanek. Anything more than that might require an amendment of bylaws.
In the meantime, education about the potential hazards of lithium-ion batteries is key to reducing the risk of injury and property loss. The FDNY offers the following tips for safer storage and disposal:
When purchasing devices, be sure that the equipment has the Underwriters Laboratories (UL) Mark. The UL mark shows that the product has been safety tested. ·

Follow the manufacturer's instructions for charging and storage·

Do not charge a device under your pillow, on your bed, or a couch

Always use the manufacturer's cord and power adapter made specifically for the device

Keep batteries/devices at room temperature

Do not place batteries in direct sunlight ·

Store batteries away from anything flammable·

If a battery overheats or you notice an odor, change in shape/color, leaking, or odd noises from a device discontinue use immediately

If safe to do so, move the device away from anything that can catch fire and call 911

Putting lithium-ion batteries in the trash or recycling at home is illegal

Individually bag batteries or tape ends before disposing ·

Recycle batteries by taking them to a battery recycling location or visiting

nyc.gov/batteries

for disposal instructions is always the best option