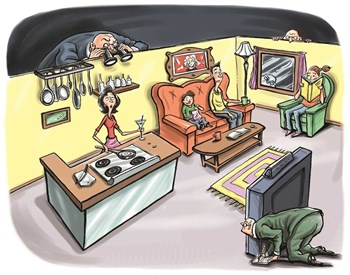 Providing safety and security is important, but condominium security providers consider each location a unique challenge. Without caution, an attempt to provide security can backfire, producing anger and anxiety instead. Responsive management helps forestall most worrisome situations.
That didn't happen in Lauderhill, Florida, earlier this year, after a few residents of the 55-and-over Castle Gardens community complained bitterly about armed security guards. They described incidents involving scuffles, handcuffs and harassment by the gun-toting security service brought in after residents expressed safety concerns. When the association didn't respond sufficiently, residents complained multiple times to local police. Then, five of them hired legal representation—obviously not a situation any condo association relishes.
New England condominiums tend to be considerably smaller than those in Florida. Here, associations concerned with security and liability try to provide the best security at the most cost-effective price—and say residents seldom complain.
By its nature, condominium living involves nearby neighbors, rules and restrictions, and controlled access—all of which help convey a relative level of security, supplemented by technology and concierge presence. The question of adding more seems to depend upon the level of risk.
A Balancing Act
"It really is a property-specific issue," says Bob McBride, CEO at The Dartmouth Group, a management company in Bedford, Massachusetts. "Urban properties have a greater need and typically a greater emphasis on security." At the other end of the spectrum are townhomes. "They have the least, and security concerns are typically addressed via simple home alarm solutions."