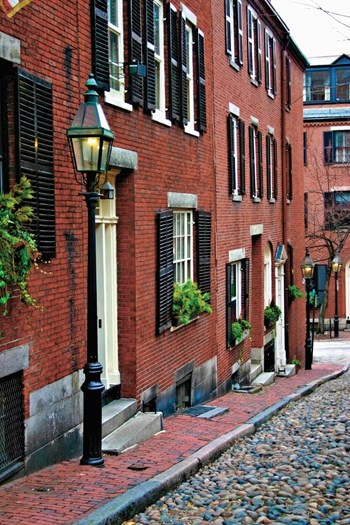 In a city known for its culture, colleges and universities, and above all, its historic role in the formation of our country, Boston contains an unusually high number of landmarked buildings. Many of these buildings are residential, and while living in them may have a certain cachet, maintaining, restoring and renovating them can be a longer and perhaps costlier enterprise.
Designated Districts
"The Boston Landmarks Commission (BLC) functions in conjunction with the local Historic District Commissions as the city's stewards of Boston's historic buildings, places and neighborhoods," according to the official website of the City of Boston. "There are more than 7,000 properties located within eight local Historic Districts designated as individual Boston Landmarks."
"The large ones are Beacon Hill, with about 1,200 buildings; Back Bay, which has over 2,000; and South End, which has about 3,500 buildings," says Ellen Lipsey, executive director of the Boston Landmarks Commission. "They are all brick row house districts, predominantly."
These major areas of landmarked buildings were designated in a couple of ways, says Lipsey. "Beacon Hill and Back Bay were determined by special acts of the Legislature. Beacon Hill, dating to 1955, is one of the two oldest historic districts in Massachusetts, with Nantucketand Back Bay dates from 1966. From that point on the districts were established under the Boston Landmarks Commission's enabling legislation."
Boston has a system in place whereby a district is designated as landmarked. To begin the landmarking process, a petition requesting landmark status must be submitted by a group of at least ten registeredvoters. Then, the mayor appoints a study committee to further examine the history and significance of the area, and to write architectural guidelines.