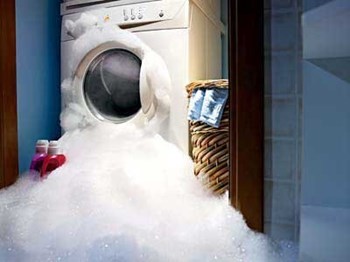 In an online forum, Sharon complains about her upstairs neighbor and begs for advice. Her neighbor had installed a washing machine in her unit, even though there was one already downstairs for the residents of her six-unit building to use. As a result of the neighbor's improper installation, her appliance overflowed, resulting in a flood of water that came pouring into Sharon's unit through heating and air vents. Now, Sharon's wall-to-wall carpeting is ruined and she's concerned about mold and other damage.
Amenities, Amenities, Amenities
While having certain appliances, such as washing machines, dryers, dishwashers and trash compactors in the units is a very attractive feature for condo or homeowner association residents, these conveniences do occasionally cause leaks, noise and vibration issues between residents, and can also create a major fire risk. There are definitely pros and cons to having in-unit amenities.
"It gives you more access to them when it is more convenient, so it is more personalized access. "If it is in your unit, it is solely for you, so you have greater control over the amenity," says Stephen DiNocco, AMS, a principal at Affinity Realty & Property Management in Boston. "It gives you more access to them when it is more convenient. On the other hand, if you have the amenities in your unit, then you are responsible for the total cost of installation and maintenance and upkeep and that is the drawback. Let's say that you have exercise equipment in your house, it is going to take up space and you are going to have to maintain the cost of that. Really, you might only use it for an hour a day. But running down to the clubhouse or fitness center is less cost to yourself."
Improper installation and misuse of these amenities may also cause damage to the individual unit as well as neighbors' units.
"Water and mold are huge problems," says attorney Cameron C. Pease of the law firm of Goldman & Pease in Needham, Massachusetts. "Let's say you're on the third floor and you have a washer that overflows. It doesn't just affect your unit, it affects the next unit and the units below. Same with mold, it may start with your unit, then grows to common areas and other units. Other issues are noise and cost; some residents might have a loud appliance that is making a racket. And if you have shared utilities and you have one person that is washing clothes all the time, that will run the utility bill," he says.