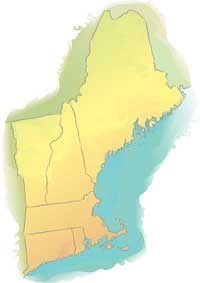 With New England condominiums still grappling with the recent economic downturn, it's no accident that most new state condo legislation deals with money matters. From a proposed superlien law in New Hampshire that would put condos first in line to collect unpaid condo fees, to a Rhode Island bill that makes it easier for condos to borrow for repairs, helping the condominium's bottom line is a prevailing theme of new condo legislation. A state-by-state breakdown of current legislation finds most legislatures sympathetic to the problems of condominiums.
Hoping to follow in the footsteps of other states that have enacted superlien laws, a newly amended HB 1340 is halfway there in New Hampshire: as of this writing, the bill has passed in the House and is on its way to the Senate.
If passed and signed by Governor John Lynch, condo associations could file priority liens that take precedence over first mortgage holders (typically banks).
"When individuals don't pay their share, the whole group must make up for the lack. We're hoping that this will cause banks to put some pressure on delinquent unit owners. In turn, thebill may help associations keep their reserves more stable, stabilize funding ebbs and flows, and keep property values up for all unit owners," says state Rep. William Infantine (R-13, Hillsborough), the bill's sponsor.
If passed, the law will only take effect for new mortgages as of January 2011 – because the New Hampshire State Constitution does not allow interference with existing contracts. The law will not have such an immediate effect as it does in other states, but eventually its influence will spread. As Infantine explains, "Condominium owners are generally a more mobile group," referring to data that show roughly 2,400 to 2,600 condominiums change hands per year, while the average mortgage lasts about three to five years between actual sales and refinances.