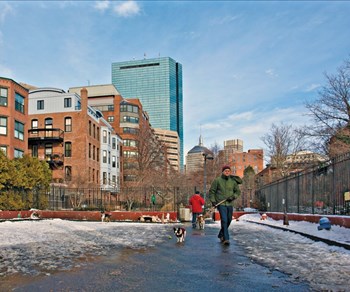 When Marjorie Kehe moved from New York to Boston in 2003, she brought a roommate: her black border-collie mix, Sheba. While no stranger to urban living, Kehe was taken aback at how few Massachusetts landlords would even consider the 25-pound dog.
"It was awful. I had no idea it would be so hard," she remembers. About "90 percent of listings were unavailable to me. I was shocked."
But when it came time for her and her husband to buy a condominium two years later, it was, happily, a rather different scenario.
"Every place we saw in person allowed dogs," Kehe says. "We wouldn't have bothered to go otherwise."
The Kehes ended up purchasing a condominium in the Jamaica Plain neighborhood of Boston, where they are happily ensconced with Sheba and two cats (more recent additions to the family).