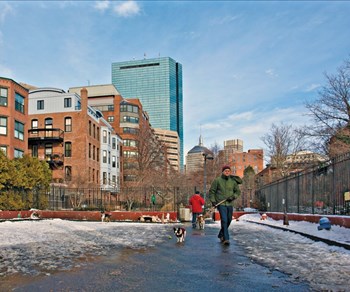 When Marjorie Kehe moved from New York to Boston in 2003, she brought a roommate: her black border-collie mix, Sheba. While no stranger to urban living, Kehe was taken aback at how few Massachusetts landlords would even consider the 25-pound dog.
"It was awful. I had no idea it would be so hard," she remembers. About "90 percent of listings were unavailable to me. I was shocked."
But when it came time for her and her husband to buy a condominium two years later, it was, happily, a rather different scenario.
"Every place we saw in person allowed dogs," Kehe says. "We wouldn't have bothered to go otherwise."
The Kehes ended up purchasing a condominium in the Jamaica Plain neighborhood of Boston, where they are happily ensconced with Sheba and two cats (more recent additions to the family).
"It turned out to be super dog-friendly. Out of nine units, almost everyone has a dog," she says.
Canine Bans Crumbling
While in previous decades, condominiums had a reputation as places with "No Dogs Allowed" signs tacked all over the place, over the past five years – fueled by the tough real estate market and growth in the number of pet owners –such canine prohibitions have been crumbling.
"Ten years ago, it was like, 'No, no, no – we don't want dogs in our building,' " says Shannon Saleh of Great North Property Management, who manages a pet-friendly condominium in Boston's North End. The concierge gives out dog biscuits, dogs visit Saleh's office with their owners, and there's a steady stream of dog-walkers in and out of the building. "There's been a complete shift. So far, in my experience, I haven't come across a building that isn't pet-friendly yet." (Pet-friendly, for these purposes, is defined as allowing dogs. Cats generally have been more welcome, and almost any condominium that allows dogs, allows cats.)
"I would say that definitely there's a market for it. Our demographic range is from young professionals to empty-nesters, so it's definitely across the board," says Saleh.
"Boston is a pretty dog-friendly city," she adds. "So the demand is there."
Indeed, Boston ranked No. 6 on the 2010 list of the Top 10 most dog friendly cities in the U.S., according to DogFriendly.com. (Rankings were based on the number of outdoor restaurants, shopping, accommodations, and transportation that welcome canines. Boston boasted 12 dog-friendly parks, and six offered that sine qua non of doggy playtime: off-leash hours. You can take your dog sailing for free on the Boston Harbor Islands Dog Cruise or to an island getaway with City Water Taxi's Island Romp for Dogs.) Given the city's canine culture, it seems logical that you'd also be able to take your dog home to an increasing number of condominiums.
Saleh says that all new condominium construction with which she's familiar is designed from the get-go with pets in mind. After all, 62 percent of American families own a pet, and developments don't want to eliminate more than half of potential buyers right off the bat. That's doubly true given the rocky years the real estate market has faced since the housing bubble burst in 2007.
Widening the Buyer Pool
"With new developments, certainly I've seen a loosening of the guidelines," says Kevin Cleary, a broker for RE/MAX Select in Boston and the owner of an English bulldog. "I think it's a function of two things: a) More people these days own pets. Pet industry sales doubled in the last 10 years. b) It's also a function of the market. With newer buildings, they want to widen the buyer pool as much as they can. I think it's a good idea. I advise landlords that if you make your building pet-friendly, the likelihood of getting a good tenant increases."
As for the concerns about wear and tear on units that led to widespread no-pets policies, Cleary believes that, as long as a development gets a security deposit, it should be protected.
"There are a lot more people who own pets who are seeking housing in condominiums now, and that's why you're seeing a more well-defined pet policy and buildings being a little more welcoming of pets," says Cleary. "I would imagine it's here to stay."
That doesn't mean that residents are able to cram a St. Bernard, a Rottweiler, and a pit bull into an 800-square-foot condo. Limits of one dog per condo, or one dog and one cat, are very common.
"What's popular nowadays is there are breed and weight restrictions," says Cleary. (Often, prohibited breeds are determined by the condo's insurance company.) The most common restriction he sees is a 40-pound weight limit, although, he points out, if your pooch is a little too pampered, it's not like there's a scale in the lobby. Another trend he sees is different rules regarding pets for owner-occupants and tenants in a condominium.
For condominium boards who might be considering loosening their own guidelines at existing properties, the process is a little more complicated than buying a box of dog biscuits and putting up signs that read "Fido Welcome."
"In Massachusetts, restrictions on pets must be contained in either the master deed or in the declaration/ bylaws," explains Matthew Gaines, an attorney at the law firm of Marcus, Errico, Emmer & Brooks, PC, in Braintree, Massachusetts. "The only thing a board can do pertaining to pets[outside of the master deed or declaration/bylaws] is make rules for the common areas," such as insisting that dogs must be on a leash or instituting fines for not cleaning up after a pet.
To change pet policies, Gaines says, "the only option is an amendment to the bylaws or the master deed." This will typically require between a 50 to 75 percent approval vote of the condo members, depending on the development.
And if a condominium that is currently pet-friendly is contemplating ousting its furry residents, not only will that take an amendment and a vote from the members, "to avoid a nasty situation … we recommend they grandfather in the current animals," says Gaines.
Dog Eviction Cost: $100,000
In fact, in November, an appeals court in New York ruled against a condominium that had tried to kick out a Yorkshire terrier that had been living there before a pet ban was enacted in 2009. The appellate judges ruled that, while the condominium board had voted in favor of the ban, it was not enforceable because it had not been written into the bylaws and approved by 80 percent of the members. The condominium spent $100,000 trying to evict the 3-1/2 pound dog, according to the dog-owner's attorney.
Another situation where condominiums should tread carefully is in regard to therapy and support dogs, Gaines says. (This warning obviously applies only to condominiums that don't already welcome dogs.) These dogs are becoming more and more prevalent for use in mental health and wellness. If someone is blind or in a wheelchair, the purpose of their service dog is fairly obvious, but there are many other disabilities covered under the law that are less visible.
"If a person has depression or anxiety and says, 'I need this dog to live my life normally,' that's sort of where it gets tricky," says Gaines. "Their disability may not be obvious, and you need to handle [the request] a little more carefully."
But these waivers are not something to dismiss out of hand, nor are they just a sneaky way of getting around a no-pet policy.
Take Therapy Dog Requests Seriously
"We advise boards to take all requests very seriously," says Gaines. A condo board does not want to be on the receiving end of a discrimination suit. "The consequences can be harsh on both a state and federal level."
That said, there are questions a board can ask. With such requests, a doctor or social worker should fill out a form detailing the individual's disability, explaining why a companion dog is a necessity, and why other treatment would not be an adequate substitute.
As the benefits of using therapy dogs to help everyone from autistic children to veterans are researched, such requests for waivers are becoming more common. "In the last year or so, it seems like more requests are coming in," says Gaines.
For condominiums that are adopting pet-friendly policies, allowing dogs is simply another way of meeting the needs of its residents. Owning a pet is something that many people feel is important for the quality of their life. "As with anything, the service industry is going to service the needs of its clients," Saleh says.
Easier to Sell Pet-Friendly Condos
Cleary adds that pet-friendly policies can benefit those who don't even own a goldfish. "You might want to sell someday, and you don't want to exclude somebody just because they own a dog they're attached to or a cat."
Kehe is among those who considers her four-footed roommates members of the family, and buying a place where she would have to give up her dog would have been like contemplating kicking out a child. No 24-hour concierge service or other amenity would be worth the heartbreak.
"I'd like to think most of us love our pets enough that it doesn't matter how wonderful the place is," she says. "If you have animals, there's just no way."
Yvonne Zipp is a freelance writer and a frequent contributor to New England Condominium magazine.