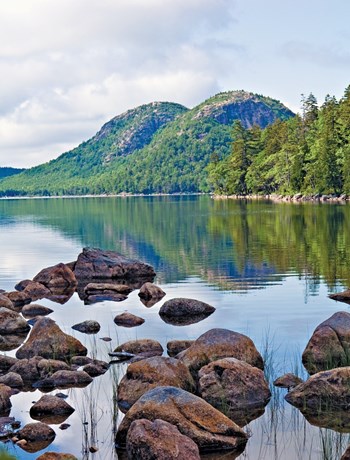 First dubbed "Eden" by settlers at the end of the eighteenth century, Bar Harbor, Maine has always sounded like the quintessential place to vacation. Even the original inhabitants, the Wabanaki Indians, called the area Ah-bays'auk or the "clambake place." While the style and tone of Bar Harbor has shifted as America matured over the centuries, one thing has remained constant: people voyage to this corner of Maine to relax, eat clams and bask in some of the most gorgeous scenery in New England.
The town of Bar Harbor sits on the eastern side of Mount Desert Island – the largest island in Maine. With over 100 square miles, Mount Desert is the second largest island on the East Coast, surpassed only by Long Island. Mount Desert was given its name in 1604, which roughly translates "island of bare mountains," in recognition of rocky Cadillac Mountain which dominates the island. Because of its location between the French-controlled areas to its North and the increasingly English-controlled areas to the South, Mount Desert remained disputed territory and largely unsettledfor the next 150 years.
With the British victory in the French and Indian War in 1763, the British finally succeeded in overpowering the French and assumed control of "New France," including the rocky coast of Maine and the island of Mount Desert. Bar Harbor was first incorporated as "Eden" in 1796. Despite the utopian setting, the name was chosen to honor an Englishman named Richard Eden. By the time Maine achieved statehood in 1820, there were a thousand hardy residents living on the island, most of whom made a living from farming, fishing, lumbering or quarrying. It did not take long, however, for Bar Harbor to switch from a town of farmers and fishermen to a town of innkeepers.
Landscape Artists and "Rusticators"
In the middle of the 19th century, members of the Hudson River School of artists, including Thomas Cole and Frederic Edwin Church, came and painted romantic landscapes of Bar Harbor and the island. When the artists exhibited their works in large cities, thepaintings inadvertently served as Bar Harbor's first promotional campaign and fans made their way to Maine to experience the beauty firsthand.
Early lodging was entirely informal and required bunking with local fishermen and farmers. Bar Harbor quickly became the place to be and the need for housing grew. The Bar Harbor Historical Society cites the Agamont House, built in 1855, as the first hotel in town and "Birch Point," built in 1868, as the first documented summerestate.