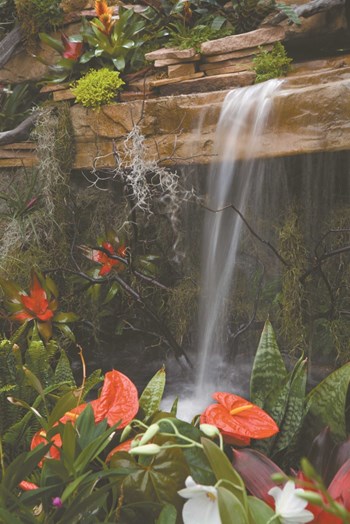 Whether indoors or out, few design elements are as dramatic and arresting as a waterfall, water wall, koi pond, reflecting pool or statuesque fountain. These water features add beauty and value to any property or building, whether they are inside a lobby or common area or outside a gathering area or main entrance.
What's Available
Water features can be inside or outside and include anything from a simple brick-paved garden pond to an extensive man-made filtered pond complete with fish, waterfalls, flowers and plants. According to PondWorks, an aquatic design, construction and maintenance company that offers services in six states nationally from New York to Maryland, garden ponds are perhaps the most common type of water feature one can have. Both formal and naturalistic, they come in nearly every size, shape and style and are found in both residential and commercial settings.
Garden ponds are water features that usually contain plants and fish and can be lush living habitats for many species. These features accentuate and enhance the environment and are often a focal point of any design. Garden ponds are balanced, healthy aquatic ecosystems. Filtration systems for these water features use both biological and mechanical means but are generally smaller, less complex and less costly than that of a comparable size koi pond, according to PondWorks.
Koi ponds, says PondWorks, are water features designed around fish, and they can be either formal or informal. Pond volume and dimensions are key to achieving the best results. Koi ponds and the filtration systems that support them are designed to manage a given fish capacity and keep them healthy and thriving. Through proper design, filtration collects and neutralizes fish waste and controls outside environmental effects on the pond.
Other less-intensive water features are fountains and indoor water walls, although they require a certain amount of maintenance to keep them functioning properly. Adding a fountain and aerator to an HOA's pond or lake not only looks pretty but serves an environmental purpose, by improving water circulation and increasing dissolved oxygen levels in waterways. This limits the growth of algae and helps to sustain fish and other aquatic animals.