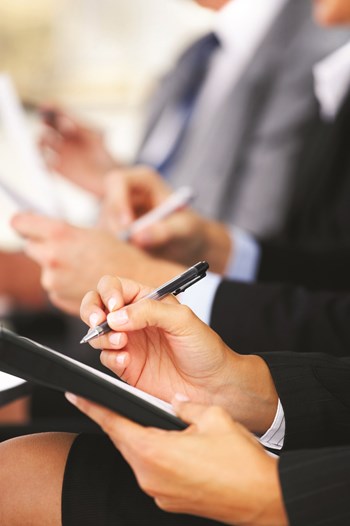 No more pencils, no more books…unless, perhaps, you're elected to your condo community's board of trustees. Then you might want to spend time getting some training specific to your new role. You have to learn the ropes somehow, right?
Although it's not mandatory, board management training comes highly recommended—by property management companies and experienced board members alike.
Think of it as a best practice that ultimately makes life easier. Each community has its own regulations and perception of responsibilities—no two are the same, just as no two neighborhoods or organizations are the same. Knowing the ins and outs of what it means to be a board member in general and then applying that to your community in particular lays the groundwork for collaborative relationships among board members, homeowners, and property managers.
As property managers see it, education has both short- and long-term advantages. Deborah Jones, PCAM, vice president at The Dartmouth Group in Bedford, Massachusetts, explains that training facilitates a culture of professionalism, so to speak. It both raises the bar and sets a precedent because boards come to expect members to learn formally what's required of their position. The payoff is for the greater good, allowing for better continuity among boards and providing checks and balances against potential instances of self-interest.
"The 'job' becomes a little less onerous when the board doesn't have to start from scratch," Jones says. "It also becomes easier to 'on-board' new trustees and makes it less likely that a rogue board member can hijack the board for their own agenda." When a board has its own processes and its procedures are in place, she adds, there's also less burnout. The result is less overall frustration and therefore less board turnover.
The ability to make timely and efficient decisions is also a key benefit, says Dana Issacson, portfolio manager at Greater Boston Property Management in Boston. The better understanding boards have of their own community, the better—and more efficient—they can be at productive interaction with management, too. "As community managers, we are facilitators, not specialists. We know a little about a lot, not a lot about a little."' That's where trained boards step in, then, because they're knowledgeable about their association "and all of its moving parts. They are able to effectively communicate with management so the association can help realize savings, maintain and upgrade their facilities, limit potential liability and exposure, and most importantly, have a good reputation with the ownership." Isaacson then invokes what could well be the board management training mantra: "Happy owners that are confident in their board of trustees will help an association avoid turmoil and conflict."
Where can interested boards get training? Some property management companies provide their own education programs. The Dartmouth Group, for example, has developed a voluntary 45-minute training. Offered after every election, the training covers all the basics of condo communities (condo documents; the roles, responsibilities, and authority of the board, manager, and homeowners, respectively; finances; rules; and maintenance). The company also provides training for their own online management program.
Training for All
Board management training isn't just for new members, Jones notes. (Or just board members—a similar training is available to all homeowners.) Many existing and longtime board members take advantage of it, too, and are grateful for the opportunity. They find it useful because they "may not know certain things but are afraid to ask," such as learning how to read and understand the financial statements. Also, boards just making the transition from the developer also find training worthwhile. It's a way to streamline operations and make sure that all members of the new community embark on leadership from the same page.
In Jones' view, "every good manager is in a constant state of educating boards on an ongoing basis." As boards and their communities evolve, therefore, so does training. In addition to The Dartmouth Group's own program, Jones encourages board members to take part in Community Associations Institute (CAI) training sessions and other programs that become available, such as a series of recent webinars on reserve studies and transition studies presented by a major engineering firm.
CAI's offerings are numerous and comprehensive, ranging from webinars to online classrooms to in-person networking and educational events. The content itself, developed for all levels of board experience, addresses such topics as ethics, governance, communications, and day-to-day operations. The organization's goals are to "inspire professionalism, effective leadership, and responsible citizenship." CAI even has scholarships available (three each year) for board members who'd like to attend its Annual Conference and Exposition.
Isaacson's firm also endorses board member training through CAI. He cites one Greater Boston Property community, Walnut Park in Stoughton, whose members attend classes and seminars regularly. Nick Pirelli has served two years on the board at Walnut Park and is vice president of the association. He considers himself a strong believer in board education: "Training is essential whether you are self-managed or hire a management company." He's a CAI member and uses his membership to access training, publications, and the Board Member Tool Kit.
Pirelli's coursework includes The Fundamentals of Community Volunteer Leadership—Level 2 and The Essentials of Community Association Volunteer Leadership—Level 3. "The best part of the Level 3 course, "he says, "is the engagement with community leaders from other local associations. It provides a chance to share ideas and resources."
In addition to cultivating skills and team-building, Pirelli sees board training as a means of achieving clarity as one looks through the lens of volunteerism. For Pirelli, serving on a board is a way to give back to the community—and training further enhances one's ability to do so: "Completing board member education not only shows you are committed to the job, it helps you be a more effective volunteer."
Many Options
Trade shows, too, are an avenue of learning and involvement board members can pursue. Isaacson explains that attending trade shows—like the New England Condominium Expo offered each spring in Boston—is useful for boards because it offers hands-on interaction with people and businesses who serve condo associations. Trade shows give board members a chance to "speak with vendors and educate themselves on the latest products, methods, and information." And though he hasn't attended one yet, Pirelli plans to: "We see the value in building relationships with vendors and keeping up-to-date on incorporating technology into our community."
Expos like the New England Condominium event, held just recently on April 30th at the Seaport World Trade Center in Boston, also include several free seminars, giving board members an opportunity to bone up on a particular topic—like current condo-related laws, or ways to mediate conflict within a community. While less formal than structured courses offered by industry organizations, the seminars and free advice booths at expos also provide board members a chance to ask professionals a lot of questions, and network with their peers from other associations to share problems and solutions.
Making the case for board management training is straightforward enough. The benefits are clear and abundant, and it's a win-win-win (board/management /community). A flip to the other side of the coin raises an obvious question: What are the drawbacks of not getting board management education?
The pitfalls of an untrained board, as both Jones and Issacson see it, are many. "Untrained boards can truly hurt an association," says Isaacson, "aesthetically, financially, and even legally." What often results is an added burden on the manager to do everything. And the concept of teamwork—essential to getting things done and done well—is lost. Inexperienced or untrained boards may lapse into difficult-to-break cycles of poor decision-making and communication breakdowns. Such problems, Isaacson underscores, can directly affect the homeowners' bank accounts. It's not just time that ends up being ill-spent. "Often the most valuable commodity of all, time, is wasted when a board is not acting in a timely manner," he says, "and that will lead to deferring maintenance and repair, projects not getting done efficiently, and potentially hurting the important relationship with the management company and manager." Jones echoes the point about untrained boards sometimes falling prey to costly (and avoidable) mistakes, and provides an example. "We found that a new client had previously accepted a promissory note for unpaid condominium fees when an owner sold a unit, and we're now trying to chase down the money owed them." That has "don't let this happen to you" written all over it.
Avoiding Frustration
Even something seemingly simple, like procedure, can be problematic for untrained boards. Misunderstandings or inefficiencies can also be a source of frustration, Jones says, when the board doesn't know the right path to follow in order to solve a problem.
Perhaps the best endorsement of board management training is a conscious return to the ideals that inspire homeowners to serve in the first place. Pirelli, who serves in his town as well as on the board, says he's always had a natural desire to serve his community. His reasons for doing so are admirable as well as practical: "I serve because I care about people and their most valuable asset, their home. I enjoy listening to the community tell me what's going on in their lives and hearing about their ideas to improve our community." Having well-trained leaders can, of course, help ideas and plans for betterment come to fruition. After all, homeowners rely on board management to advocate on their behalf effectively.
In the end, it's all about developing a cohesive community where all voices can be heard. Pirelli understands this well. "I believe everyone has talent and can bring great ideas and, most importantly, solutions to the table."
Jodie Lynn Boduch is a freelance writer and a frequent contributor to New England Condominium.