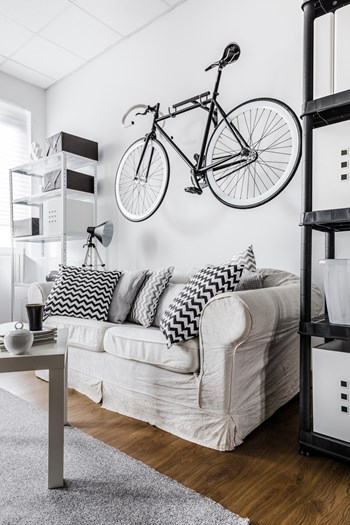 Unless you call a sprawling Wyoming cattle ranch home, chances are that in your life, space comes at a premium. And while living in close quarters in places like New York City is often fodder for jokes, the problem of not enough space (or too much stuff) plagues residents of both apartments and homes all over the country.
But while the struggle is real, there are ways to improve your situation. You don't have to feel like your apartment is caving in on you! We asked some interior experts for tips and tricks of the trade to help make your space more, well, spacious. From using both natural and artificial light to brighten your rooms, to making use of multi-purpose furniture, there are things we can all do – and it need not cost an arm and a leg.
First, Have a Plan
You move into a new home. You're excited! You want to get started on decorating right away.
But consider a pause. Victoria Benatar, principal architect at Victoria Benatar, Architect PLLC in Manhattan, says residents in any type of home -- but especially those in small apartments -- need to have a design plan in place before they can begin making the best use of their space.
"When you have a small apartment, you need to understand your program," says Benatar. "What do you need it for? Do you entertain? Do you work at home? Do you have a dog? You need to understand what your needs are, and based on your needs you can create a program, which is the activities you need to perform in your apartment. For example, eating and working, entertaining and working, sitting and sleeping … If you're a writer, you need a lot of books."
Fantasy plays a big role in design, but it doesn't always correlate with reality. Helping clients understand how they would like to live and what is possible is part of Benatar's job. She is also an interior design and architecture professor at Parsons School of Design and is about to start a sabbatical during which she will specifically be studying design in tiny apartments.
"A terrible apartment isn't necessarily a terrible apartment!" she says, adding that creating a plan is something professional designers and architects can help with. In fact, many design companies offer consulting services – very often at a lower cost than more detailed interior design.
Lighting and Contrast
Defining the lines of the room—where the ceiling meets the floor, for example—will go a long way in making your space feel bigger, says Sarah Reaume, a designer with Gooch Design Studio in Chicago.
"Your eye will read the contrast in the room, whether it's dark or light," she says, adding that the idea that dark colors will make your room feel smaller is something of a myth. "A darker color pallette as a whole wouldn't necessarily make the room feel smaller."
Karen Stowell, a designer and Reaume's colleague at Gooch, agrees. "If you're looking to make the room feel larger, you need to muddy the lines a bit, so choosing a color with a high contrast …[can] give you a crisp difference."
Having proper lighting – as well as multiple types of lighting -- is another easy and relatively inexpensive design tip.
"Have a table lamp in addition to an overhead light and a floor lamp, depending on the situation," says Stowell. "Having light that adds interest and warmth to the space is important."
When it comes to light, also consider nature. If you're lucky enough to get lots of natural light, take advantage of it, advises Benatar. "If you have a lot of natural light, you need to paint your apartment in light colors," she says, adding that if you are more drawn to darker colors you can opt for that, but just remember to lighten the scene up. She suggests adding picture frames and mirrors. "I have seen and done beautiful dark spaces in small apartments," she says. "Not everyone wants to live in a white box!"
All About Windows
Windows are the "eyes of the house," says Stephan Elbaz, designer and founder of the blinds, shades and closets design company Interior Motif in Hoboken, New Jersey. Allowing the outside to be seen from the inside makes the house feel bigger, he says.
In addition to allowing light in and providing views, windows also have spatial impact. Some apartments may feature floor-to-ceiling windows, while others have more traditional-sized windows, and picking the right window treatments is crucial. "If you want to make the space feel bigger, having drapes that go from floor to ceiling will accentuate the height of the ceiling," says Elbaz. For example, if a window is six feet high, choosing floor-to-ceiling drapes will make the space feel taller, he says. (Elbaz adds that another bonus with drapes that go to the floor is that they'll make you feel taller too!)
Choosing the best window shades for your home, depending on light and other factors, is also important, Elbaz says. Lighter screen shades will allow more light in, making the room feel bigger -- but if your space gets a lot of direct light, a darker screen shade may be the best choice. A darker shade tones down the brightness, Elbaz explains, but it also allows you to see out more clearly. Darker shades help with clarity and can make the apartment feel huge.
And there's another reason to take advantage of the windows, too: to "blur the line between interior and exterior," says Stowell. "You have a relationship with outside, and you can see it and interact with the outside as well as your interior," she says. "You're not limited to the space that you're in."
Elbaz agrees. "It's also nice to walk up to a window. We get energy from it," he says. "All the different elements; you don't want to close that up."
When it Comes to Furniture
It's easy to fall in love with furniture. That mid-century couch in the window of your favorite store may call to you, but you have to consider where you'll be putting it. Will the couch even fit? And not just through the door and into the space -- does the couch fit in relation to the rest of your furniture? Keeping everything in proportion is very important, says Benatar. "In the showroom the sofa looks small -- but in your apartment, the beautiful sofa that you fell in love with becomes a nightmare," she says. "This always happens."
Reaume agrees. "You don't need to choose smaller pieces [if you live in a small space], but the pieces need to be proportionate to one another," she says. "It's best if you have a medium-sized sofa and chairs and they look like they're proportional."
What about getting big pieces of furniture, to make a small room look bigger by contrast? That's also a myth, says Stowell. "If you have a small place, and you throw a large piece of furniture in there, something is going to feel off," she says. "If you have a teeny tiny carpet in front of your couch it will look funny."
According to the experts, in a small space, your best bet is thinking multi-functionally. Try furniture pieces that "do double duty," Reaume adds. That will offer you the most opportunity to make good use of your space. "The most important thing is to have furniture pieces that are multi-function and can be used in more than one scenario," she says. "There are coffee tables that can raise up and convert into a dining table."
Your Home is Your Refuge – So Keep it Tidy
With only a small amount of space, you may have to reconsider those half-dozen throw pillows you may love, but really don't need. Same goes for your old CDs. Keep your belongings to a minimum. "You don't want clutter everywhere," says Reaume.
And find creative ways to pack things away, says Stowell. For example, consider an ottoman that opens up to reveal storage space for magazines, remotes, gaming console controllers, and other odds and ends.
Where you live and sleep is important, and arranging your space just so impacts your well-being, says Benatar. "You feel better, you sleep better, and you're better with people when your home is your little castle," she says. "You're happier. Your home is a shrine. You want to feel protected."
And when your space is cozy without feeling cluttered, and neat without being sterile, you're more likely to feel just that.
Georgia Kral is a contributor for New England Condominium.