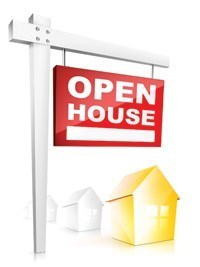 In this digital age, more and more homebuyers are discovering their dream homes simply with a click of a mouse. But regardless of a person's first impressions, eventually seeing the house in person will be the final sell—and that's where an open house can come into the picture.
For the real estate novice, an open house is an opportunity for a gaggle of prospective buyers to descend upon a property and mill around, looking it over and picturing themselves living there. Open houses are generally regarded as a great way for realtors to connect buyers and sellers—but they can pose certain concerns for boards, property managers, and neighbors in terms of safety and security, nuisance and traffic.
As the post-recession resurgence of open houses increases among condominiums, it's vital that people holding them understand the rules and regulations.
A quick glance around real estate websites selling condos shows that open houses are taking place at a lot of New England condominiums—and they have been extremely effective recently.
Marc Aaronson, director of operations for Dwight Street Management, Inc., which specializes in the smaller community associations in the greater Boston area, says that in the condo world, open houses were sometimes considered taboo and extremely hard to get up and running. But lately, that has changed.
"We have seen them more recently because the market as a whole has gotten much better, especially in the condo world, and especially around the Boson area specifically," he says. "We are finding that a lot more people are jumping on open houses as a way to sell."
In Connecticut, the condo market is just coming out of a slow turn due to many condo properties losing their FHA approvals, and many are just now getting those requirements back. That is creating a stable market with positive signs ahead.
Mary Ann Hebert, state president of the Connecticut Association of Realtors, says that open houses in condos often bring in neighbors—and that can lead to sales. "Those neighbors will bring their friends and relatives by to look at it and they already know the positives, so they often are interested when something opens up," she says. "Anytime you can get the word out more, helps."
Ian M. Gopin, president and CEO of G&G Management in Newton, Massachusetts, notes that the condo market has been picking up in the past few months and open houses have played a small part in helping them sell. "Open houses are part of it, but the Internet is really where people are getting their information today, especially in our area," he says. "Not to say, that they don't help. When an open house is utilized and done correctly, it can help something sell fast."
The Internet also means that an open house doesn't have to contain lots of brochures and documents about the condo and unit, as the person running the sale can direct people to that info online or send it to them in their personal email.
"The most important thing in establishing a successful open house is to have the realtor prepared so they can know and answer all the questions that are asked," Gopin says. "One of the things I have noticed over the years is those that don't have it readily available and aren't able to answer questions about the condo building itself (Are there assessments coming up? How old is the roof? What does the condo fee cover?) usually don't go well. The ones that have this info on hand, do better."
Since all this information is readily available, the agent has no excuse not to have this at an open house.
Following the Rules
As Aaronson mentioned, condos don't have to allow open houses, and some simply won't budge, even if it means a better chance to sell a unit in a property. If they do, rules need to be followed.
"When it comes to rules, the biggest thing people need to know, especially here in Massachusetts, is that every condo is different," Aaronson says. "We find that most people don't know all their rights and all the rules, even when they start setting them up, and that's the hardest thing about having an open house."
At certain complexes—such as the larger townhomes, gated communities, age-restricted communities—another rule that comes into play concerns the number of guests allowed to visit an open house on any given day.
"Nine times out of 10, these rules are in the condo documents, which are created well in advance, so the developer or whoever does the conversion had a say on how open houses are to be considered," Aaronson says. "Subsequently, if the bylaws don't say anything about restrictions, the board could create a rule and then it would be just as important to follow."
Other condominium owners don't really want to do anything to inhibit a sale that will benefit all owners if the unit isn't moving, so boards try to allow open houses if they can.
Sign of the Times
The one restriction that most condos and HOAs insist on when someone holds an open house deals with signage. Boards generally do not like signs of any kind advertising the open house, and that includes putting a "For Sale" sign out front.
"That makes it very hard. If there's no signage, people have trouble finding out where to go and what to do," Aaronson says. "From the perspective of those living there, you can understand why they might not want signs posted around everywhere, but it is detrimental in a sale."
Hebert says that when a condo association won't let allow an "Open House" sign, it's important to utilize websites and real estate apps such as realtor.com, which has an open house module on it, and CTrealtor.com, which also attracts people to them. Putting directions and notice in newspapers are other options for getting the word out.
Secure and Insured
The last thing anyone wants is a bunch of strangers walking around their hallways and common areas or taking up parking spaces near their home—but that's exactly what can happen when open houses are held.
"If you really think about it, you're allowing strangers into a building that's secure and that scares people wholeheartedly," he says. "If I were to write the rules for a condo, I would require that every open house has two staff people (one at the front door and one inside the unit), so that someone is always with the person looking around, rather than giving them free rein to walk around."
Gopin has seen open houses in complexes that are spread out, where units have their own entrance, as well as those with double doors on the building to get in. Each requires its own level of security, he says. Security is solely the responsibility of the unit owner and broker. One gated property that Dwight Street Management deals with requires a golf cart to bring the house hunters to and from the unit, so they are never out of sight.
Another reason to escort someone is simply to get them inside. At one open house Aaronson was involved in, someone was coming to an open house, but because there was no one there to greet them and they could just walk around the property, the homebuyers actually saw a "For Sale" sign in another window, and wound up buying that one, having never made it inside the open house.
"We deal with a lot of town houses and sometimes if there's a situation where there's a secure lock, that can be a bit challenging because you can't leave that door open," Hebert says. "You might need to put a note out and let someone know to buzz a certain unit so they can be let in."
As for insurance, according to the Massachusetts Property Insurance Underwriting Association, those selling the unit would be responsible for any coverage, and an association's coverage would kick in if a visitor were to meander off and steal something or cause damage elsewhere in the condo.
"You are opening your property up to 'strangers' so you would be open to liability, but I don't know of any instances where insurance has come into play during an open house," Aaronson says. "Usually, the broker who covers the open house would cover it anyway because from an association's perspective, they are the responsible party."
Final Thoughts
There are a number of ways that condo associations can do their part to keep the disruptions from an open house to a minimum. The suggestions range from notifying the neighbors that an open house is taking place, to limiting traffic, keeping track of all visitors and making sure that the realtor knows all rules and expectations.
Despite the challenges it might pose, an open house is a great way to bring in people who might otherwise have missed the buying opportunity and show people what's great about your condo.
"Many times people have a preconceived notion of what a condominium has to offer. When they come in to one that is staged and see the amenities—they see the pool and the clubhouse and the fitness center— it becomes a lifestyle choice that they haven't really thought of before," Hebert says. "It's not always an immediate success, but later on it may make them look into this avenue that they haven't explored before."
Keith Loria is a freelance writer and a frequent contributor to New England Condominium.