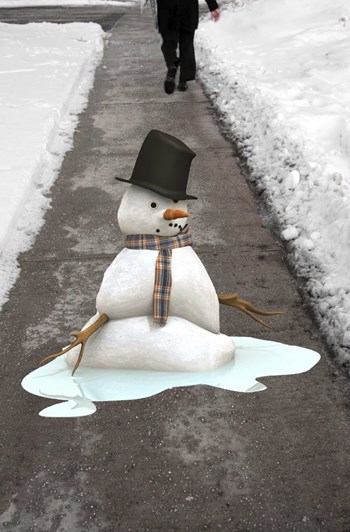 Two winters ago, the Massachusetts Supreme Judicial Court overturned 125 years of legal precedent and announced a new rule of law, making property owners legally responsible for the removal of snow and ice from their property. (Papadopoulos v. Target Corp.)
That was the straw that broke the proverbial camel's back. Consequently, Massachusetts now has to follow the lead of other states in helping to reduce the risk of falls by removing ice and snow from each property promptly. For condo associations, that means reconsidering old ways—the rock salt that notoriously damages carpets and concrete—against newer blends of products that can be less corrosive and more environmentally-friendly, and high-tech solutions like radiated heat.
What's a conscientious board to do? Bone up, primarily. It's your job.
Bernie Gitlin of Risk Strategies Co. in Randolph, Massachusetts, advises clients to just get 'er done.
"In the 'olden days,' in the People's Republic of Massachusetts, if it snowed and you did not touch the snow—therefore it was considered a 'normal' accumulation—and somebody came in and fell on it, the landowner would not be responsible for any injury to the claimant. Meanwhile, the rest of the world treated things differently, and basically said you, as the owner, are responsible for keeping your property safe.