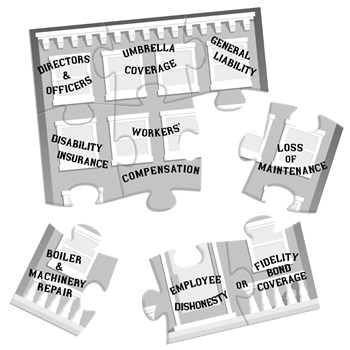 Insurance sounds like a simple concept: you pay a premium to your insurer, and then when you file a claim, your insurer pays you. Simple. Insuring a condominium or association property shouldn't be much different than insuring yourself—just on a bigger scale, right?
Not quite. In reality, making sure your building is properly insured is a multi-layered process that trustees and board members should take the time to understand. Having the right kinds of insurance and the right amount of coverage could be vital for your association's financial—and sometimes physical—survival. A solid understanding of what comprises a typical condominium policy can help your board protect your unit owners, as well as the investment they've made in their homes.
The Right Package
According to Pierre Coll, an insurance adjuster at Coll, Sacchetti & Associates in Plymouth, Massachusetts, an association's policy begins with a package policy and with what he calls the master policy for property coverage. He explains that the condominium documents will dictate what is covered or not in the master policy.
"The master policy, depending on the condo documents, can include coverage for each individual unit or can only include coverage for the common areas: the common building, the ground, the roof, the outside windows and doors," he says.
Coll cautions that if the master policy covers the individual unit, it is only for the original structure, so any substantial changes or improvements will not be covered.
"If someone buys a unit, decides they don't like the kitchen and puts in $100,000 for a new one, that may not be covered and the individual condo owner should have his own insurance for the inside of the condo and all the changes he will make."
The governing documents will also specify where the boundary between common property and individual unit lies.
"Bare-walls" means that the master insurance policy will provide coverage from the studs outward and the unit owner must provide their own coverage from the studs inward, to include the sheetrock, paint, wallpaper, flooring (whether it be tile, carpet, wood or linoleum), as well as the lighting fixtures, appliances, and the cabinets and fixtures in the bathrooms and kitchen.
"All-In" means that the master insurance policy will provide coverage for the exterior of the buildings, as well as the interiors of the units to include the sheetrock, paint, wallpaper, flooring (whether it be tile, carpet, wood or linoleum), as well as the lighting fixtures, appliances, and the cabinets and fixtures in the bathrooms and kitchen.
"As long as the items are permanently affixed to the unit, such as wall-to-wall carpeting vs. an ornamental area rug, that would be included in All-In coverage," Snow explains. "A microwave oven that is built into the wall would be covered, but a microwave oven that's sitting on the counter would not.
"I tell people," Snow adds, "that for All-In Coverage, if you could pick your unit up and turn it upside-down, whatever falls out you have to insure, and whatever stays the Master Policy would insure."
General liability is part of the package policy and is a big component of the liability side, the third party coverage. The two main components of general liability are to provide defense to the insured and pay out damages to the injured party, which is subject to a policy limit.
It is also important to include directors and officers or D&O coverage, which is a professional liability coverage that protects the decision-making of the board of trustees.
"It is the most important policy you can get," says Chris Snow, a senior account executive at Bernier & Snow Insurance Agency in Rochester, New Hampshire. "I wouldn't even consider not getting it. As a board member, you're a volunteer and you need the protection. If somebody doesn't like the way an election was run, how the proxies were sent, what they feel that the funds are being distributed. Let's say you don't adequately reserve for future improvements and then all of a sudden there is an assessment, somebody gets sued, you want to have that protection as a fellow homeowner."
A Closer Look
The main components of any association or building policy are property, general liability, boiler and machinery, crime/fidelity, workers compensation and disability. Beyond those policies, any additional liability coverage comes in the form of umbrella coverage.
Generally, property insurance covers first-party losses, general liability covers third-party claims (which primarily arise in the form of slip-and-fall claims). Most general liability policies are written with a limit of $1 million per occurrence with a $2 million aggregate limit; however, other limits are available so owners should be sure to check their policy to make sure they have what they asked for.
"If you have $1 million in primary general liability coverage, that only covers you for up to $1 million," says Alnoor Ladha, an insurance broker based in New York City. "In today's litigious world, $1 million in coverage sometimes is not sufficient, because the legal fees alone can eat up the million-dollar limit. So we provide our clients with up to $200 million in excess umbrella coverage."
That same principle applies to directors and officers coverage, which covers claims made against the board for mistakes or mismanagement. Generally speaking, Ladha says a property will have $1 million of coverage and can buy up to $200 million in umbrella coverage in addition to the initial D&O coverage.
Knowing Your Policy
A lot of factors go into determining how much a condominium association will pay for its coverage. Insurance experts note that cost is typically driven on a condo policy by the construction of the building, the size of the building, and the number of units in the building. Also important are the types of occupants, such as a retail or a commercial tenant.
It's also important—if not vital—for board members and trustees to take an active role in learning about their building's policy and understanding it.
"If you are leasing a building or a unit [the board] should have a general understanding of what's covered. It's frustrating because even board members don't even know what their condo docs say when it comes to insurance. If the board doesn't understand it, how are the unit owners going to understand it?" says Snow.
Coverage Mistakes to Avoid
The vast sea of insurance policies can certainly be difficult to navigate but often times both boards and owners make common mistakes that can be averted.
Some condo owners may feel they don't need homeowner's insurance, such as an HO-6 policy. This isn't true. Just like any single family homeowner, condo owners need to have their own property insured via a homeowner's policy.
"We highly recommend it. It's not mandatory, of course. But in addition to covering their own personal property, their clothing, and the TVs and stereos and pots and pans, it covers their own personal liability, so if something happens inside the unit. It provides coverage if they have a dog and it bites somebody. It covers loss of use, so if there's a fire and you're out of your home for six months, it's going to pay for the rent for the alternate housing," says Snow.
Without a homeowner's policy, any damage you cause to your unit or others will have to come out of pocket. Snow explains that many condo owners believe that the master policy covers their individual unit but that is not the case. As mentioned earlier, the master policy may only cover the common area or your unit, but only up until a certain point, such as the wall or frame. Should damage occur to your antique mahogany kitchen table, for instance, that would be your responsibility.
And while cutting costs may be on everyone's mind nowadays, Snow explains that while an association's budget may dictate how much they are willing to spend, the cheapest policy is not always the best one.
"The decision should never be made just on price alone. If you're looking at a pyramid of importance, price is like at 20 percent. The next 40 percent is the product itself and coverages. And then the other 40 percent is the agent, the expertise, the service, all the intangibles. Unfortunately, boards just always turn to the last page of a proposal and whatever is the cheapest one, that's the one they buy and they don't really compare apples to apples," he says.
Both Coll and Snow recommend seeking out the help of an insurance agent that specializes in condominium coverage.
"One of the mistakes I see is not seeking out the experts. Whether it's an attorney, you want an attorney that knows condo law. You don't want a divorce attorney. Same with insurance agents. You want an agent that understands and knows the nuances of all the different coverages so you're properly covered," says Snow.
Whether you are in the processing of reviewing or renewing your policy, having the right kind and amount of insurance is an essential ingredient that will provide some necessary peace of mind for you and your board.
Anthony Stoeckert is a freelance writer and a contributor to New England Condominium. Editorial Assistant Maggie Puniewska contributed to this article.