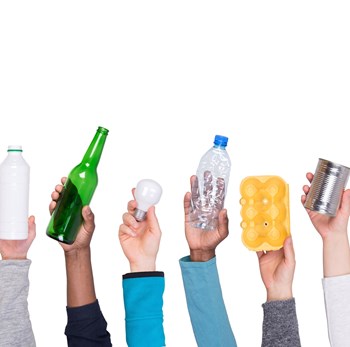 When it comes to how co-op and condo communities navigate the race to address climate change, a goal like switching to 100 percent renewable energy may seem too tall an order. On the other hand, simply recycling household glass, paper, and plastic products is low-hanging fruit. Even so — and with landfills brimming with reusable products despite plenty of local ordinances designed to encourage recycling — getting residents to actually sort their trash for collection can feel like an uphill battle for boards and managers.
In a condo or homeowners' association, a gentle push in the right direction can sometimes come from a property manager who's particularly committed to reducing his or her client communities' environmental impact. New England Condominium spoke with a handful of managers in various markets who have encouraged or facilitated an array of eco-friendly programs in their associations to help spread the message of recycling.
The Green Apple
Victor Berrios formerly managed a 620-unit co-op in the Bronx, New York and turned a building that once met the idea of recycling with a collective shrug into a lean, mean, green-conscious machine.
NEC: What was the situation at the property like when you originally took the reins?
VB: Come recycling day, I'd see a porter put out a single bag of bottles and cans on the curb. We put out more than that at my house, and it's just me, my wife, and two kids. So I wound up reaching out to a not-for-profit called GrowNYC. They assist with recycling efforts, and promote and teach conservation. We held classes for building staff, and during open shareholder meetings. For the latter, we'd have giveaways to encourage participation. You have to incentivize these things."