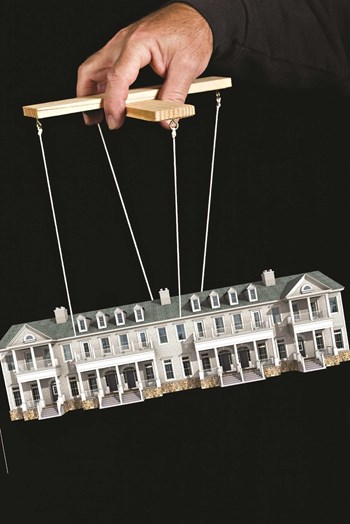 The goal of any property developer is to sell units, but until that objective is reached they have to assume all the day-to-day responsibilities to ensure smooth operations and continued sales. This requires wearing many hats—manager, board member and ombudsmen. As a result, it's often a a relief when control of the property is transitioned to members of the association. However, this isn't always the smoothest of processes, and developers and unit owners can quickly become enemies, if a clear and effective transition doesn't take place.
In Massachusetts, there's not a very a clear legal framework for transitions, which lead to confusion in the process.
"In Massachusetts, it's all set forth in the master deed, sometimes it's in the declaration of trust. Somewhere in the documents, there will be a paragraph about the trigger for turnover," says Diane Rubin, partner at the law firm Prince Lobel in Boston. "If you're buying in a brand-new building, when 75% of the units have been sold, or two years from the day of the recording of the master deed is usually when the transition happens. I've seen some developers and their lawyers put in the documents that the turnover date will be in seven years, which is past the statute of repose for construction claims. It's arguably against public policy, but it's an open issue in Massachusetts," says Rubin.
Obviously the idea of a board of trustees in the first place is to make sure at least a few people are legally responsible for keeping the best interests of the community. Just like owner-run boards, the developer has a fiduciary duty to act in those interests when it runs the board. Unfortunately, that doesn't always happen. "Even if it's just for a year or two, the first board that controlled by the developer, the interests of them are very different than the issues of the unit-owner board. If you have to spend $50,000 to repair something that isn't working right. Does it get paid for by the developers or the unit owners?" says Rubin.
"The developers want to wear as many hats as they can, so they think they have all the power. They want to be the developer, the trustee and the manager. That sets up not only an inherent conflict, but sometimes an inherent problem when you get to transition. If you're all those three things, and the association doesn't have all the records in place or the payments have been made in a manner that the shouldn't, you've already created a trail that leads right back to you for a case of negligence," says Charles Perkins, senior partner at Perkins & Anctil in Westford, Massachusetts.