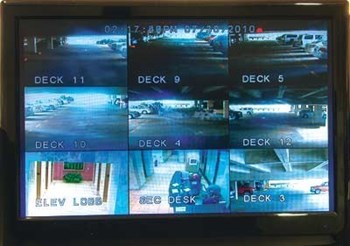 It takes more than a watch dog and a dead bolt lock to feel secure these days. In a multi-housing setting, countless opportunities exist for hopeful crooks to infiltrate and commit crimes. Often, properties are cased for days, weeks or months before the crime is committed. How safe are you?
According to Neighborhood Scout, last year in the United States there were 2,222,196 burglaries and 6,588,873 thefts. In Massachusetts, for example, there were 36,094 burglaries and 107,128 thefts. In the Bay State, the likelihood that a person will be a victim of a property crime is 1 in 41.
Determining the level of security can become difficult for boards and management companies because there are many configurations and variables to consider. "There are so many types and kinds of condos it's impossible to generalize. High-end, luxury condos may have their own security guards. Larger condominiums may contract out for security services," says Attorney Clive Martin in the Boston office of Robinson & Cole, LLP. "Smaller condominiums may put their faith in bright exterior lighting and secure exterior doors. Some two or three-unit condominiums may not do anything beyond the precautions individual unit owners take."
Variables such as building size and tenant population is an important part of the equation but boards should connect with their local police departments to achieve a better understanding of not only the neighborhood their condominium is located in but surrounding neighborhoods as well.
"Boards need to evaluate the crime rates and what type of crimes they are," says Marshall Marinance, owner and president of Marshall Alarm Systems in Yorktown Heights, New York. "The next thing boards have to determine is if the crimes are coming from the inside or the outside such as people who work on the premises. Most of the crimes that occur do so in community rooms, pools and parking lots," adds Marinance, a 37-year veteran of the security industry and vice president on the Electronic Security Association Board of Directors.