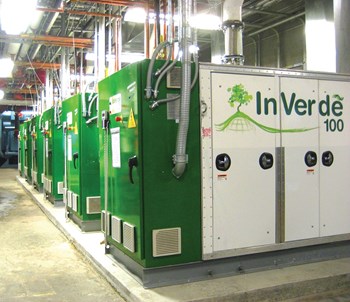 Many residential properties obtain their power from a local energy supplier. But in recent years, boards and managing agents have investigated, and in some cases, installed "cogeneration " systems that allow properties to produce a portion of the energy they use on-site. Like most technologies, there are both benefits and drawbacks to converting to a cogeneration system.
Another term for cogeneration is "combined heating and power," or 'CHP,' and Joseph Gehret of Waltham, Massachusetts-based firm Tecogen, an original designer of packaged combined heat and power equipment, advocates for its use in multifamily markets. "I think that it may be the majority of our market right now," he says. "They've a tremendous use for both heat and electric energy pretty continuously throughout the year, because there's always a demand for domestic hot water, and they use a lot of electricity for elevators, common area lighting, and the like. Our products also have the ability to act as a standby generator, so whenever there's a power outage, the common area lights and elevators and water pumps and those types of things continue to operate. This gives boards and residence some level of insurance that they can continue to function."
Why Cogeneration?
William Cristofaro, a licensed engineer and president of Energy Concepts, which has offices in New York and New Jersey, explains that cogeneration is the simultaneous production of electric power and heat from a fuel-fired engine or turbine. In New York City, for example, he says most buildings have either natural gas-fired engines or small turbines.
"By installing a cogeneration system, condos and co-ops can substantially reduce their energy use, upgrade aged central plant infrastructure, and obtain a source of standby power when the utility goes down," says Cristofaro. "Often the cogeneration plant project can include other upgrades, such as new boilers and chillers. The energy savings pays for the project."
The cogeneration movement is not new, and in fact dates back to the early 1980s, explains Vishnu Barran, sales manager for Ener-G Rudox, the East Rutherford, New Jersey–based branch of a global cogen company that Barran notes installed its first cogeneration system in 1984.