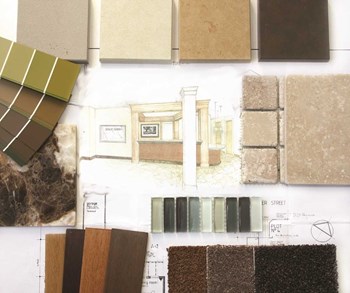 Curb appeal provides that first impression, the attention-grabbing feature that all condominium and co-op properties strive for. Across New England, curb appeal usually starts with colorful flowers or plants that reflect the changing seasons. No matter how elaborate or simple the curb appeal may be, it ends at the curb; its job is done and it is time to move the charm and ambiance indoors.
Maintaining a property's common areas is a major responsibility for a condominium owners association. A board will spend a large allotment of time, effort, and budget on ensuring all common areas are safe, attractive, and appealing. Common areas may vary from a simple lobby and mailroom, to an elaborate clubhouse complex of swimming pools, meeting, exercise, and party rooms. Regardless of the size and scope of the common area, there will come a time when maintenance has done all that is possible, and it is time to redecorate.
Going Pro
Refreshing and redecorating usually occurs every five to ten years, when budgets will allow. A major challenge when redecorating is to strike a balance between current styles and upcoming trends. Knowing the difference between a trend and a fad is a job for a skilled and trained interior decorator. A professional interior design firm will make suggestions, prepare sample boards, and be prepared to talk price and return on investment with a design committee and/or board. A professional will be aware of the latest style changes and cutting-edge products, and how those elements can be utilized and customized for a property's best advantage. The end result must be affordable and attractive to both residents and potential homeowners. A design that is easy to maintain is also extremely important.
Trends in Color, Lighting, and Design
Cheryl Katz of C & J Katz Studio in Boston says that pastel colors are making a comeback in the New England area. "Lately we've seen a return to color," she says. "Used sparingly, a hint of orange, lime or pink—yes, even pink — is an instant update."
For certain interior designers, location plays a major role in choosing color. "I do a lot of work on the Boston waterfront, so in those properties I use colors that are going to be reminiscent of water," says Boston-based interior designer Camille Garro. "Lots of blues—warmer blues, not pale blues. Citrus greens are very strong right now. It gives the illusion of the ocean because of the algae in the water. So in those properties you'll find lots of citrusy greens mixed in with blues."