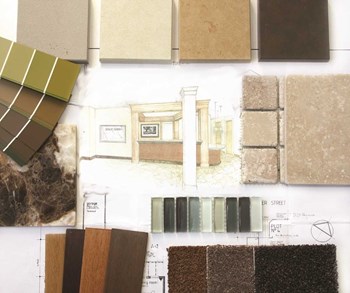 Curb appeal provides that first impression, the attention-grabbing feature that all condominium and co-op properties strive for. Across New England, curb appeal usually starts with colorful flowers or plants that reflect the changing seasons. No matter how elaborate or simple the curb appeal may be, it ends at the curb; its job is done and it is time to move the charm and ambiance indoors.
Maintaining a property's common areas is a major responsibility for a condominium owners association. A board will spend a large allotment of time, effort, and budget on ensuring all common areas are safe, attractive, and appealing. Common areas may vary from a simple lobby and mailroom, to an elaborate clubhouse complex of swimming pools, meeting, exercise, and party rooms. Regardless of the size and scope of the common area, there will come a time when maintenance has done all that is possible, and it is time to redecorate.
Going Pro
Refreshing and redecorating usually occurs every five to ten years, when budgets will allow. A major challenge when redecorating is to strike a balance between current styles and upcoming trends. Knowing the difference between a trend and a fad is a job for a skilled and trained interior decorator. A professional interior design firm will make suggestions, prepare sample boards, and be prepared to talk price and return on investment with a design committee and/or board. A professional will be aware of the latest style changes and cutting-edge products, and how those elements can be utilized and customized for a property's best advantage. The end result must be affordable and attractive to both residents and potential homeowners. A design that is easy to maintain is also extremely important.
Trends in Color, Lighting, and Design
Cheryl Katz of C & J Katz Studio in Boston says that pastel colors are making a comeback in the New England area. "Lately we've seen a return to color," she says. "Used sparingly, a hint of orange, lime or pink—yes, even pink — is an instant update."
For certain interior designers, location plays a major role in choosing color. "I do a lot of work on the Boston waterfront, so in those properties I use colors that are going to be reminiscent of water," says Boston-based interior designer Camille Garro. "Lots of blues—warmer blues, not pale blues. Citrus greens are very strong right now. It gives the illusion of the ocean because of the algae in the water. So in those properties you'll find lots of citrusy greens mixed in with blues."
"Warm, inviting, yet neutral colors are very popular in common areas right now," adds Gia Milazzo-Smith, owner of the interior design firm Designs by Gia in Princeton, Massachusetts.
Nikki Goodnow, an interior designer located in Worcester, Massachusetts, expects wallpaper to make a comeback. "I'm seeing the use of a lot of commercial wall covering in heavy textures and metallic," she says.
All designers interviewed agreed that lighting plays an important role and can have a major impact in any design project.
"Lighting can add a lot of drama, though it's not always the easiest thing to do," says Jeff Swanson, an interior designer with Renovation Planning in Boston. "If you can work in wall sconces, that can go a long way for dramatic up-lighting; remember wall sconces."
Design professionals suggest using task lighting, accent lights and ambient light in an overall design to create areas of interest—and expect to see a trend toward more chandeliers in upcoming design plans.
Design by Committee
Milazzo-Smith approaches a design challenge by first studying the 'bones' and structure of a project. If she is working with a design committee, she maintains a professional attitude while striving to lead the group to the best ideas with the least amount of discord.
"When I design common spaces, my first step is to spend time gathering information," she says. "I meet with board members and spend time listening to their goals for the project as well as researching the demographics of the building. The more I know about the residents, the better job I can do in preparing the design. In any lobby or common area, I like to be mindful that this is a transitional space that is used by many people with different tastes and different ideas of how the space should function."
Milazzo-Smith says the next step is to prepare a conceptual design plan using visuals, drawings and samples based on all the information and research that has been gathered. She will then present her design ideas to the design committee and explain her choices. "It's hard to please everyone," she says. "I do try to discuss the atmosphere that all of the board members would like to create for their space."
"The designer and the design committee," Katz agrees, "are best served when they form a partnership that is respectful of the talent of all its members."
When designing common areas and lobbies, Swanson recommends clean lines. "In most common areas of buildings I think people are looking for simplicity and elegance — the more minimalist the better," he says. "That's what's happening in Boston right now. Clutter free, very clean lines. Most clients want their lobbies to look warm and inviting without being over done."
Goodnow says that "getting the committee involved in the design process by putting together a visual board also helps with the process. If they understand why you are selecting the products you have chosen for their particular project it will help field the questions and comments they receive from the community."
Interior decorators agree that it is important for a condo association design committee to do their homework and provide insight to a designer on the likes, dislikes, wants and wishes of the residents.
Garro believes that the best way for the design committee to educate themselves is to look on the internet or look at magazines for the latest trends. "Keeping up with the periodicals is the best way for design committees to learn about what's new and groundbreaking in design," she says. "New England Home, Boston Design Guide and North Shore are all excellent magazines to find out what's going on in design."
Interior designers are trained to help clients strike a balance between what's trendy and what will stand the test of time and various ways of incorporating of-the-moment design elements into traditional –looking lobbies and common areas.
"The newest, latest, hottest design items can usually be found in accessories," says Katz. "Lamps, toss cushions, area rugs are a few examples. This is good news because once a trend has passed these items are easier to replace than more costly items—a sofa, pair of chairs or wood pieces—and allow for a refresh on a regular basis."
Going Green
Many interior decorators believe that "green design" is here to stay, even though client reaction has been mixed on the subject.
Milazzo-Smith notes that the trend toward green, environmentally-friendly décor is influencing the design of common spaces as well as residential spaces and points toward an abundance of choices of environmentally-friendly products for construction, finishing and furnishings.
"People are getting very conscious of the green movement and tend to be more educated about it," says Garro. "But I have not experienced people going crazy about it. Green products are more costly. For example, shipment costs. They may be cognizant of buying a bamboo rug but the shipping cost is ridiculous. The oil, the freight, the packaging, it all adds up."
"I think most people would love to go green, and they appreciate the importance of it," adds Swanson, "But when they realize that the products cost 30, 40 or sometimes 50 percent more and they get less choice they'll change their minds. Especially after the 2008-2009 downturn, people are spending very cautiously. People tend to prioritize—and that's something they don't seem to be spending money on."
The National Association of Home Builders (NAHB) has noted a shift in the design of common areas, and a trend toward having areas bleed seamlessly into one another. In the past there were more separate, distinctive rooms; now, computer centers, media centers, and lounge areas are often part of the same room — a design that, as a side benefit, encourages interaction among residents.
Anne Childers is a freelance writer and a frequent contributor to New England Condominium. Staff Writer Christy Smith-Sloman contributed to this article.