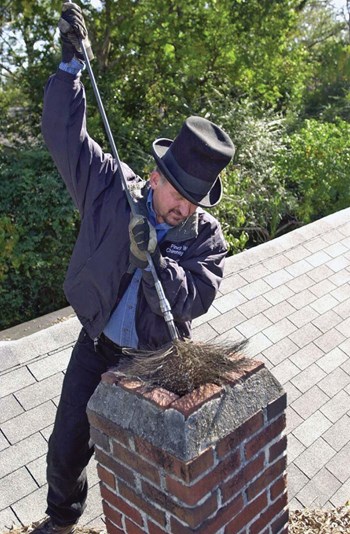 National Public Radio recently ran a story about a piece of advice from the latest edition of The Old Farmer's Almanac. The suggestion was about how to stay warm throughout the winter with just one log: chuck it out of an upstairs window, run downstairs and outside to pick it up, and then sprint back upstairs and chuck it out the window again. Repeat until warm.
This method may not cut it for the majority of condominium residents because the Almanac, as well many other weather forecasters, is predictingan unusually cold winter for New England. So people may be more inclined to chuck that log into the fireplace and set fire to it than use it for exercise. To that end, we've prepared a short list of things to do in preparation for winter so that only the firewood is going up in smoke.
Better Safe Than Smoky
As anybody who has come in from a snowstorm to stand in front of crackling fire knows, burning wood in a fireplace or stove is more than just a way to heat a room. The light and heat, the camaraderie, and for some, the nostalgia are part of what make winter time fires appealing—especially in ski country, where an after-skiing glass of wine in front of a roaring fire is notably popular. But before that wine is uncorked and the first log is torched, there are a few things to consider.
One of the first steps is inspection. Ashley Eldridge of the Chimney Safety Institute of America explains that there are three levels of inspections. Level 1 includes all parts that are readily accessible and visible without much effort. This is the most common type of inspection and is appropriate for most yearly inspections. Level 2 is a step beyond that, requiring visual inspection of many of the inside portions of the fireplace and chimney. This is important in the event of a problem, a change in the fireplace, or the sale of a home. Level 3, which may include cutting open or removal of parts to access the hidden portions is only used in the cases where a problem has been identified.
While Carlton Shippey of Cherry Valley Chimney Sweep in Cherry Valley, Massachusetts, has seen all types of arrangements, he says the most common arrangement for him is one where each condominium owner is required to submit documentation to the condo board that the fireplace unit has been inspected and swept if necessary. This puts the responsibility (and cost) for the inspection on the unit owner and the responsibility for overall supervision on the board. The arrangement allows the condominium owners some flexibility in negotiating their own inspection and chimney sweep services.