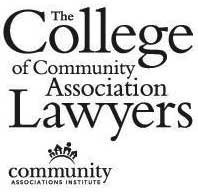 For nearly 20 years, the Community Associations Institute (CAI) has recognized excellence in the practice of community law through the Falls Church, Virginia-based College of Community Association Lawyers (CCAL). Of the tens of thousands of attorneys practicing community law across the United States, less than 150 have been granted exclusive membership in the college.
In 1993, the charter class consisted of 20 attorneys acknowledged by their peers as having developed the field of community association law. This burgeoning area of law focused on all areas of the law affecting community associations such as enforcement of an association's rules and governing documents, litigation, mediation, arbitration and contract renegotiation and renewal.
"CCAL is prestigious in terms of what a lawyer does in community association law and I think anyone who works hard in an industry likes to be recognized by their peers, and that's how you get in, by being recognized by your peers," says CCAL member Charles A. Perkins Jr., Esq. of Perkins & Anctil PC in Westford, Massachusetts. "I think the CCAL designation is something that people and lawyers in the industry pay attention to. They may say, 'wow, he's a member of CCAL, that's pretty special. I bet he knows his community association law.'"
Experts in the Field
The members of CCAL are considered experts in the field of community association law by their peers. The members distinguish themselves through their contributions to the development of the profession. Their service is demonstrated by a commitment to educate and empower boards and the 60 million residents of the 300,000 community associations across the country. In addition, CCAL provides a forum for the exchange of information among experienced legal professionals working in the community association field arena.
"I get calls all the time and get quite a bit of referrals," adds Perkins. "There aren't a lot of people in New England, especially Massachusetts that practice community association law. You get a reputation, or your firm gets a reputation for doing certain things. In some cases it's personal injury law, in other cases it's worker's compensation, in my case it's community association law."
Since its inception in 1993, the founding principle of the CCAL is to promote high standards of professional and ethical responsibilities in the practice of community association law.
Other goals include developing and educating attorneys working in the field of community association law, facilitating the development of community association educational materials and programming related to legal issues for use by other professionals and homeowners, cooperating with international, national, state and local organizations, government agencies and other groups having an interest in community association law and creating a community of scholars to promote the professional development needs and career goals of CCAL members.
For Members Only
In order to be eligible for membership in the college, an attorney must have a minimum of seven years legal practice with a demonstrated concentration in community association law, five of which immediately must precede the date of application. They must be a member of the Community Associations Institute (CAI) and have attended at least one law seminar within the last five years. They must have demonstrated significant involvement in the provision of legal services to community associations through the attainment of 12 out of a possible 15 points, and finally, community association law has to constitute at least 50 percent of their current practice.
"Becoming a member is not an easy thing to qualify for. It was a lengthy process," says Perkins. "You have to have quite a number of benchmarks like the educational component in terms of the writing and the teaching and being a member of the community."
Perkins is one of only nine members of CCAL who practice across New England. He became a member in October 2006.
Additional information on becoming a member can be found on CAI's website http://caionline.org/career/ designations or by calling 703-970-9220. For questions regarding the application process contact Michael Hedge, CAI's Director of Government & Public Affairs at mhedge@caionline.org.
Building Community
CCAL hosts an annual community association law seminar that features emerging trends and legislative issues important to the practice of community association law.
This year's CCAL seminar was held January 26–28 in Palm Springs, California. Topics included Qualified Mortgages: New Standards, New Challenges; Recalls: The Hidden Pitfalls; When a Director or Manager gets SLAPPed: The Ins and Outs of Strategic Lawsuits Against Public Participation, and The Ethics of Representing Associations During Times of Owner Discontent.
"I attend the annual law seminar every year," says Perkins. "They are great. I think the courses they have are superior. There's always something there that interests you. Another good thing is that you get to spend two or three days with people in the industry who you've known but don't get to see on a day to day basis. You can find out what's going on in their practices and talk about cases and situations. It is time incredibly well spent."
The College of Community Association Lawyers also hosts an annual trade show and is active in legislative lobbying efforts in Washington, D.C. that affects community associations.
Christy Smith-Sloman is a staff writer at New England Condominium and other publications.