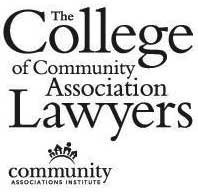 For nearly 20 years, the Community Associations Institute (CAI) has recognized excellence in the practice of community law through the Falls Church, Virginia-based College of Community Association Lawyers (CCAL). Of the tens of thousands of attorneys practicing community law across the United States, less than 150 have been granted exclusive membership in the college.
In 1993, the charter class consisted of 20 attorneys acknowledged by their peers as having developed the field of community association law. This burgeoning area of law focused on all areas of the law affecting community associations such as enforcement of an association's rules and governing documents, litigation, mediation, arbitration and contract renegotiation and renewal.
"CCAL is prestigious in terms of what a lawyer does in community association law and I think anyone who works hard in an industry likes to be recognized by their peers, and that's how you get in, by being recognized by your peers," says CCAL member Charles A. Perkins Jr., Esq. of Perkins & Anctil PC in Westford, Massachusetts. "I think the CCAL designation is something that people and lawyers in the industry pay attention to. They may say, 'wow, he's a member of CCAL, that's pretty special. I bet he knows his community association law.'"
Experts in the Field
The members of CCAL are considered experts in the field of community association law by their peers. The members distinguish themselves through their contributions to the development of the profession. Their service is demonstrated by a commitment to educate and empower boards and the 60 million residents of the 300,000 community associations across the country. In addition, CCAL provides a forum for the exchange of information among experienced legal professionals working in the community association field arena.
"I get calls all the time and get quite a bit of referrals," adds Perkins. "There aren't a lot of people in New England, especially Massachusetts that practice community association law. You get a reputation, or your firm gets a reputation for doing certain things. In some cases it's personal injury law, in other cases it's worker's compensation, in my case it's community association law."