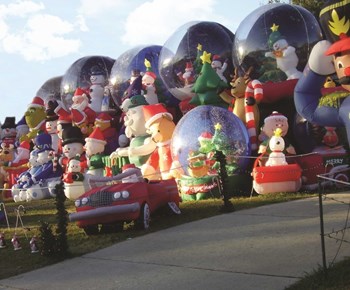 In an episode of the television classic, "Seinfeld," George Costanza's father (played by Jerry Stiller) invents "Festivus—for the rest of us" to mold all the holidays into one event. Attorney Frank Lombardi of the law firm of Goodman, Shapiro & Lombardi, LLC in Lincoln, Rhode Island, jokes that Costanza's concept might diminish conflicts within communities. But in the real world, there's no escaping Christmas. This holiday, the biggie of them all, tends to create the most fuss among condo residents, as childhood fantasies and religious intentions collide with "the rules." The associated holiday "cheer," as expressed in flashing lights and inflated Santa figures, creates problems for board members.
Keith Shirley of Meridian Realty Group in Boston, which manages about 1,600 residential condominium units, says most boards put rules in place to define just what will, or won't, be allowed to deck the halls.
Boards would do best to establish regulations and enforce them, he says. "It's really dependent on trustees what the rules and regulations are. Smaller, more intimate residences—and even the long-term urban residential areas—seem to have kind of an understanding about the holidays, and people hold a collegial relationship with each other. But on any new building we take over from the developers, we set up rules and regulations, and we highly recommend that the board of trustees adhere to them."
Why? Any mother of multiple children can tell you that.
"If you let one go, everyone else starts to do what they want," Shirley said. "Enforcement becomes difficult from a management perspective."