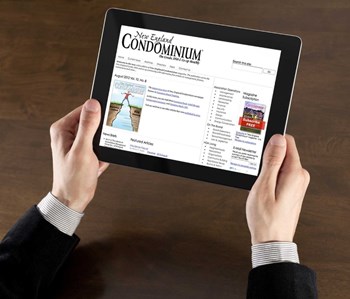 Board members and trustees are volunteers with many responsibilities. They devote time to their association, act as a governing body for the condo and have the powers to control what is permitted to take place and not take place. It's a busy job and, just like becoming a good employee, becoming a good board member takes some work. Good board members stay proactive when it comes to knowing their job and stay abreast to changes of laws.
Fortunately, there are many resources available to help trustees and board members. Publications like New England Condominium magazine offer valuable tips and advice for trustees, unit owners and community association professionals of all types on issues relating to board operations, management, finance, insurance, maintenance and governance. Also, there are a wide range of courses that are offered by trade organizations such as the Community Associations Institute (CAI) and the Institute of Real Estate Management (IREM), which has chapters throughout New England.
Numerous Resources Available
When deciding to run for a seat on the board—or after taking that seat at the table—condominium owners who want to learn about the job face no shortage of educational opportunities. Here are some sources of education and information for both new board members, and those interested in boosting their knowledge:
New England Condominium (www.newenglandcondo.com) and The Cooperator (www.cooperator.com) are available online, with an extensive archive of articles on management, finance, maintenance, law, and, of course, being a board member. TheCooperator newspaper, which has editions in New York, New Jersey, Florida and Chicago, is the sister publication to New England Condominium, and also presents seminars at expos in those markets.
New England's first Condo Expo took place in 2009 and has been growing ever since. The New England Condominium's 2013 Condo and Apartment Management Expo will again take place at the Seaport World Trade Center in Boston, offering a variety of exhibits and seminar panels that will help trustees become better leaders and enable them to run their communities more efficiently. The 2012 Expo included seminars on resolving conflicts, running effective meetings and the legal impacts of foreclosures on associations. Visit www.ne-expo.com for more information on the 2013 Expo, scheduled for May 21st.