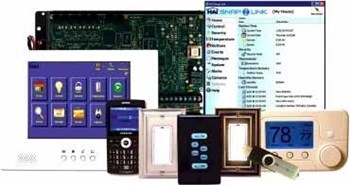 Technology is affecting the way we do business, how we go about our daily tasks, and even how our homes function. Putting existing technology to use in a home or residential building is the essence of what it means to be an "intelligent" building or home. An "intelligent" building is able to monitor its environmental, mechanical, and lighting (among other) systems, through a computerized network of electronic devices. Maintenance, communications, security, and other residential building functions are now being handled by new systems, whose upgraded operations are helping building personnel do their jobs more effectively. In many cases, intelligent homes and buildings provide savings for their owners, by helping them to cut back on their energy usage.
Recent technological innovations are part of the operation of an intelligent building. Heating, lighting, security and other building functions increasingly are being controlled by new or retrofitted systems, especially in residential buildings. Depending upon a building or unit owner's needs, new systems can help to manage a building's temperature, its natural and artificial lighting, and other functions. New systems also are helping with routine tasks in residential buildings. The technology is used in part as a fail-safe reminder of work to be done in the building, or of system conditions that should be addressed.
Technology Streamlines Operations
Fran Besdin is the marketing manager of BuildingLink.com, a web-based business that assists owners and managers with recurring building tasks. Her company has served about 100,000 residential units, by providing software for work orders, recurring tasks (such as preventive maintenance), and other jobs. The company stores a building's information on multiple servers, to keep it safe. "We provide software solutions for running a building," Besdin says.
Some of these time-saving building automation systems that are available do not require major upgrades to a building's heating or lighting systems. Wireless technology increasingly is being used as part of such systems, which makes installation much easier than wire-based system installation.
U.S. Energy Group, of Fresh Meadows, New York, sells systems to monitor and operate buildings. Dan Margulies, chief executive officer of U.S. Energy Group, says even older buildings can benefit from system upgrades. The company installs the indoor temperature sensors and software to enable owners or managers to set different temperatures at different times of the day, Margulies says.