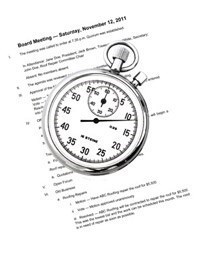 In Bolton, Massachusetts, a condo resident owned a truck with commercial license plates and, when it wasn't in use, he wanted to park it on the property. The previous board gave him approval to do so, but when it came time to produce proof of this decision to the new board, the resident couldn't produce copies of the meeting minutes. At another association, confusion over a decision about the size of dogs that are allowed on the property was solved when a board member produced copies of the minutes—which proved that the vote was to allow dogs weighing less than 35 pounds, not 50 pounds.
Associations are run by boards and, of course, boards hold meetings. The meetings are important, but these two scenarios prove that keeping good records of what goes on in those meetings is just as important. Not only can copies of the minutes come in handy when decisions that were made at these meetings are forgotten, but it can come in handy at others times, too.
One of the reasons for keeping minutes is to have an official record of corporate decisions that have been made in these meetings. "The board members and property managers don't always remember what they decided," notes says Diane Rubin, principal at the law firm of Prince Lobel Tye, LLP in Boston. "For the unit owners, it's also important to have a record of decisions that were made. And, finally, sometimes at a time of purchase, a potential owner also wants to look at the minutes. It's a good place to start to get a snapshot into the health of the association."
Minutes 101
Thanks to today's technology, minutes don't have to be taken with pen and paper. Instead, an iPad or laptop can be used to document the minutes. Surprisingly, James Butler, executive manager of J. Butler Property Management in Tewksbury, Massachusetts, says that probably 75% of boards are still writing out their minutes while others are using laptops or iPads. Nobody that he knows of is videotaping meetings.
The secretary's main function is to record minutes and keep copies of the records, but Rubin says that in a larger association, the property manager can also take the minutes. Taking proper and complete minutes at a meeting may seem pretty easy and self-explanatory—just write down what's said and who said it—but there's more to it than that. Think of taking minutes as taking notes when you were back in class. You didn't write down every thought, comment and discussion you had in class. You simply wrote down the facts and some other information, but not everything. Condo association minutes can be treated almost the same way.