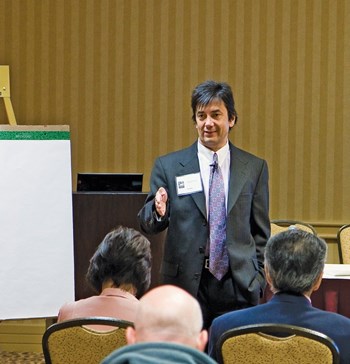 "Survive or thrive," was the challengeissued to recession-weary exhibitors for the upcoming New England Condominium Expo. The throw-down came during "Expo University," a recent day-long exhibitor workshop focused on getting the most return on investment from the 2010 New England Condo Expo, to be held in May at the Seaport World Trade Center in Boston.
The United States has undergone six recessions since 1970 and has come roaring back each time, said speaker Jefferson Davis, owner of the trade show consulting firm Competitive Edge in Charlotte, North Carolina. "Make a decision not to live in fear. Ignore the negativity," he advised the three dozen "students" at the workshop, presented free to exhibitors by New England Condominium. By abandoning their "survival mentality," Davis said businesses could position themselves for the coming "great recovery." Leading businesses aren't locked in a crouch position, Davis said, but are instead looking to the future and increasing, not decreasing, their marketing.
The inspirational words by Davis, along with tips on how to exhibit, are part of a concerted effort to educate expo vendors on how to better respond to attendees' needs, said Henry Robbins, executive vice president of New England Condominium. "Most exhibitors have had no training in how to exhibit," said Robbins. "They do logistics great, they show up, they get their booths running, they have their literature. But they really don't know how to serve the needs of the attendee," he said. The purpose of training exhibitors before the show is to "makevendors responsive to people's needs," to answer questions in a professional and timely manner, said Robbins.
With vendors up to speed, the Expo can be a "one-stop supermarket of service providers and new products for property managers, boards and trustees," he said. "Looking for a new service provider? Need replacement windows? How about an accountant, or maybe a new property manager or landscaper?" Robbins said. "In one day, you can get the latest and greatest in products and services."
Based on feedback from volunteer board members who attended the 2009 Expo, the 2010 event's hours will be 11:30 a.m. to 7:30 p.m. "The show will be open later to make it easier for people to come after work," said Robbins. "All of our board members are unpaid, and they give up a chunk of their time to attend the Expo. We're trying to program it so they don't have to leave work to find out about the latest trends and products in the community association arena," he said.