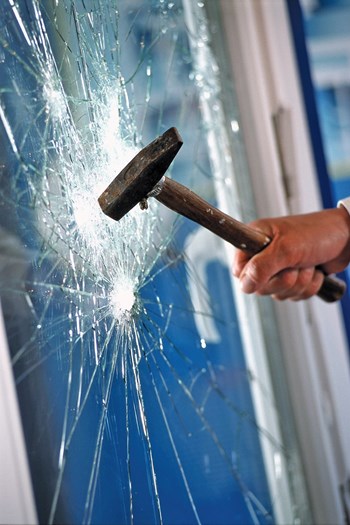 In today's high-tech world, security can look a lot like a sci-fi movie. Golf carts can be equipped with laser systems that will read license plates and check them against a computer list of approved vehicles. Elevators will only travel to certain floors if the rider has the correct key card. From their home computer, owners can do everything from allowing a plumber entry while they are vacationing in the Caribbean to checking out the security feed from cameras in the parking lots.
But security can also mean something as inexpensive as immediately painting over graffiti and keeping the bushes clear of trash. "It's very important. The more signs of social disorder, the more likely there is to be social disorder," says Elliot Boxerbaum, president of Security Risk Management Consultants in Columbus, Ohio.
No matter how up-to-date or elaborate the technology, what security measures can't do, everyone interviewed emphasized, is eliminate crime. The best you can aim for is a program that vehemently encourages criminals to go elsewhere. "I don't care if you have FBI, CIA, and 12 police departments, you can't stop crime. A strong security force may displace it, but it will just go somewhere else," says Murray Levine, vice president of Wackenhut Corporation Security Services, which is the world's second-largest employer after Wal-Mart. "The difference between a $10,000 nuisance suit and $5 million verdict is the quality of the people protecting the property." He advises that condo boards look into hiring security officers who have a background in either law enforcement or the military, "rather than someone who came from Burger King. But guesswhat? There's a price tag difference."
The steps that go into creating a security program that meets an individual community association's needs are quite varied and some of the goals don't even involve security per se, experts say. In addition to protecting owners and their property, security also has an additional function: "It helps protect the image of a community as much as prevent a crime," says Richard Mullan, vice president of AlliedBarton Security Services, Inc., a national firm with offices throughout New England.
No One Security "Standard"
There are no rules of thumb in terms of how much to budget for security per resident, the experts say. Nor is there such a thing as a "standard" level of security: For example, a 500-unit development in a suburb will have different security requirements than that same-sized development downtown.