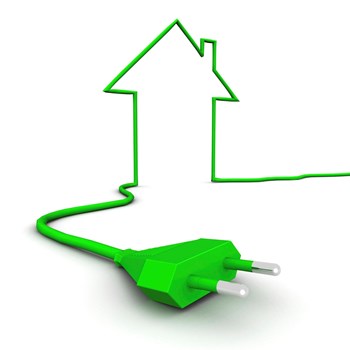 Trade-offs are a symptom of modern society, and we all find ourselves playing one zero-sum game or another. All the more reason to appreciate circumstances under which everyone wins, right? Enter the concept of energy incentives. Energy conservation benefits both the environment and, thanks to state and federal government incentives, your bank account.
The typical U.S. family spends more than $1,600 a year on energy bills, with much of that cost attributable to energy inefficiency (e.g., poor insulation) and waste (e.g., leaving the lights on). Energy conservation has become a priority for condo residents and boards alike, with incentives for electricity, gas, and solar power driving the conversation. Representatives from Massachusetts, Connecticut and the solar industry recently offered their insight on energy incentive programs and rebates.
Audits and More
Attorney Jerrylyn Huckabee, residential energy efficiency program coordinator at the Massachusetts Department of Energy Resources, points to the Mass Save Multifamily Building Program. This comprehensive set of incentives offers a plan for exterior of the building (e.g., insulation), common lighting and heating systems. The program also offers individual units with energy-saving measures relative to lighting and refrigerators. Even if your building doesn't participate, she adds, "individual units can qualify for in-unit program offerings and 0% loans."
Incentives are also available at retail (like appliances and lighting: see www.masssave.com/residential/lighting-and-appliances) or through contractors (e.g., for heating and cooling systems: see www.masssave.com/ residential/heating-and-cooling). In addition to the Mass Save Multifamily Building Program, condo incentives such as rebates for air source heat pumps are available through the Massachusetts Clean Energy Center (MassCEC).
In Connecticut, Eversource and United Illuminating Company (UI) offer incentives under the Energize Connecticut initiative. As with the Mass Save program, there are common area incentives relative to indoor and outdoor lighting. Other common area incentives address heating and hot water equipment. Other Energize Connecticut offerings include low- or (depending on income) no-cost energy audits as well as discounts and rebates on insulation, energy-efficient home heating equipment, water heating equipment, central air conditioning, advanced air sealing, and energy-efficient lighting.
The programs in both states stem from legislation in recent decades that reflects mindfulness about both environmental awareness and energy shortages (concerns in the 1970s prompted energy efficiency programs in Massachusetts). However, the 2008 Green Communities Act brought things to a new level starting in 2010, Huckabee says, with new requirements—which took place around 2010 —mandating a greater investment across the Commonwealth to lower bills, reduce greenhouse gas emissions, and encourage green building design. Incentives are less costly to implement for the state, too. Huckabee notes that "statewide investments in energy efficiency cost about half as much as statewide investments in fossil fuel generation and delivery infrastructure."
Although these programs are voluntary, Boston recently introduced energy efficiency reporting requirements as a means of legislating conservation efforts. The energy benchmarking program, enacted as a result of the 2013 Boston Energy Reporting and Disclosure Ordinance (BERDO), established a goal of reducing greenhouse gas emissions 25% by 2020. (Benchmarking alone saves an average of 2% on building utilities.) Under BERDO, owners of large commercial and multifamily residential buildings must submit information to the city regarding their annual energy use, Energy Star rating (if applicable), water use, and greenhouse gas emissions. Energy audits must be performed every five years in energy-underperforming buildings or demonstrate a pattern of improvement. The mandate has a rolling enactment schedule from May 2015 to May 2017.
Energy efficiency incentives, therefore, involve homeowners and building owners alike. In Massachusetts and Connecticut, residents have a small fee on their energy bills earmarked for conservation. In Connecticut, this practice was implemented after the formation of the Connecticut Energy Efficiency Fund (CEEF) following legislation passed in 1998. Utilities use this funding to support the efficiency programs of Energize CT. Enoch Lenge, energy efficiency spokesperson at Eversource, says "Connecticut has very aggressive carbon reduction goals and a comprehensive energy strategy," adding that the energy saved by the Energize CT programs goes a long way towards achieving those goals.
Who Can Use Them?
By design, almost everyone is eligible for Mass Save and Energize CT incentives. In Massachusetts, all customers in investor-owned utility territories are eligible, says Huckabee, though municipal utility customers should check with their utility for availability. Condo owners can take part both as homeowners and as associations, depending on the incentives. For example, Huckabee explains, central building management or boards can take advantage of heating system incentives, whereas refrigerator rebates are available to homeowners and unit owners. She sums it up as such: "A good rule of thumb is: If you have the legal authority to change the equipment, you are eligible to make it more energy efficient."
In Connecticut, the incentives apply to all homeowners and renters (with the owner's permission) who are customers of Eversource, UI, Southern Connecticut Gas, or Connecticut Natural Gas. As for condo boards, Lenge says, they're also eligible, and the "measures and incentives available to them are evaluated on a case-by-case basis."
Occasionally there are upfront costs or co-pays but, as Huckabee illustrates, "services and incentives are often extremely generous." What's more, the co-payment can be financed—with a 0% loan. As well, she says that the retail programs "generally offer rebates for the price difference between efficiency and energy-guzzling products." Incentives are intended to make it worthwhile—and as easy as possible.
If you'd like to learn more about incentive programs, either as an individual unit owner or on behalf of a condo board, several resources serve as starting points. Association-wide measures will, of course, yield the most savings; Huckabee says contacting a Mass Save representative (www.MassSave.com) is a good start, and general information can be found on the Massachusetts Clean Energy Center site (www.masscec.com). In addition, the retail, contractor, and single-family mentioned earlier incentives are options on an individual/family basis. For Connecticut, Lenge advises both individual condo owners and condo boards to call 877-WISE-USE or visit www.Energize CT.com to get started.
Beyond Fossils
Those are the routes for traditional fossil fuel utilities, but what about green technology? Solar energy is an emerging sector of the energy market (think: 22% job growth rate, compared to 1.1% elsewhere in the economy). Fred Greenhalgh, digital marketing manager for solar installer ReVision Energy, explains why solar is gaining ground and what options exist for condo owners when it comes to this promising renewable resource.
A new solar array goes in every 2.5 minutes, thanks to a combination of two trends: lower solar photovoltaic (PV) panel prices and the increase in electric rates (in New Hampshire alone, rates jumped by as much as 50% last winter) as result of natural gas shortages. Although fracking has made natural gas more available, transportation and distribution remain challenges (and supply and demand case studies). Solar has come forward as an alternative approach to these issues.
Greenhalgh says there's a 30% federal tax credit in effect for solar investments through end of 2016. Also, many states (such as New Hampshire, at $3,750) offer rebates. Even though Massachusetts no longer has one, he notes that residents can sell solar credits (SRECs) to the utility and earn money, often around $750-$1,000 a year.
He points out that most solar installations "are still for detached, single-family homes, because the project organization is simpler." In the big solar markets, he says, the most common way is through leasing the panels; a solar installer pays for the panels, leases your roof space, and sells you the power (lower than the cost of the grid).
Greenhalgh then poses (and answers) a key question: "What do you do if you are in a condo and don't own your roof? Historically, the answer has been, 'Not much,' but that is changing as solar 'gardens,' or solar 'farms,' get more popular." He goes on to say that because laws vary by state, so will solar farm layouts. Such farms require big open tracts of land that will remain undisturbed for 25+ years. Although he doesn't know of an example per se, Greenhalgh says having a solar farm on a condo community (for condo owners) is certainly feasible.
In essence, "the model is similar to Community Supported Agriculture (CSA)—multiple people go in on a big solar PV project, and the dividends (the solar generation) are shared amongst that group of people, relative to their investment in the project." Then the percentage of solar generation offset gets automatically applied to your electric bill. In addition, "you can move around within the electric utility's territory and keep your share, or sell it if you move. So for example, you could sell your condo, and buy a house in the same utility territory, and still benefit from your same solar farm share. It's convenient and portable." Solar farms are much more popular in Vermont and Massachusetts than they are in Maine and New Hampshire right now, but, as Greenhalgh says, things are changing quickly.
Whether energy incentives come from traditional utilities or renewable resources, the shift towards conservation efforts goes hand-in-hand with both social responsibility and sound financial sense. "Other than the issues inherent in condo management (e.g., getting board agreement)," says Huckabee, "there is no reason for ratepayers not to participate in energy efficiency programs." A point well made.
Jodie Lynn Boduch is a freelance writer and a frequent contributor to New England Condominium.