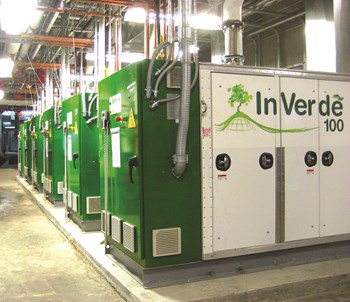 The process of producing energy for metropolitan New England-area co-ops and condos has dramatically evolved in recent years, advancing to the point in which one energy professional has quipped, "The old way of using a traditional energy-producing system is like using a chainsaw to cut butter."
Specifically, though, what are these new energy-producing technologies? Can they save money, long term and short term, for a condo or HOA? How can they be acquired when it seems, quite literally, as if major commercial energy suppliers are the only option available? Some condominium communities are exploring these questions, and coming up with solutions that are saving them both energy and money.
In any city, most co-ops, condos and HOAs receive energy from a single, major supplier like National Grid. Many property managers and HOAs, however, are taking some of these matters into their own hands—so to speak—through implementing co-generation technologies.
Some Definitions
By definition, co-generating buildings produce a portion—sometimes a larger portion; sometimes smaller—of the energy they need to operate, on their own with the appropriate equipment. They rely on major suppliers only for the balance of what they cannot produce. Sometimes, they even sell surplus energy back to the suppliers, making a profit from their efficiency.
In reality, co-generation has existed for decades; it has, though, required time to gain support and visibility. In fact, many people aren't fully aware the technology exists today. For those who do not, co-generation is the use of natural gas-fueled energy to create electricity. It's often called combined heat and power (CHP) because it delivers two forms of energy…electricity and hot/chilled water.