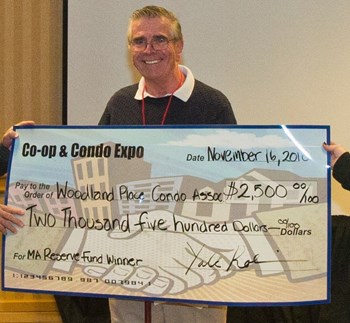 T he third annual New England Condo Expo will showcase over 120 exhibitors from all over New England when the day-long event returns to the Seaport World Trade Center at 200 Seaport Boulevard in Boston on Tuesday, May 24, 2011.
Admission is free for the entire day — including a full slate of educational seminars and one-on-one professional advice. Trade show hours are from 10:00 a.m. to 5:00 p.m.
For the second consecutive year, the Condo Expo, which is sponsored by New England Condominium magazine, will feature a $2,500 board member raffle, with the prize money going to the winning condominium's reserve fund. The raffle is free for board members who attend the Expo.
Last year's Expo raffle winner — John Cheney, vice president of the board at Woodland Place Condo Association — recently accepted a $2,500 check on behalf of his Rockland, Massachusetts community.