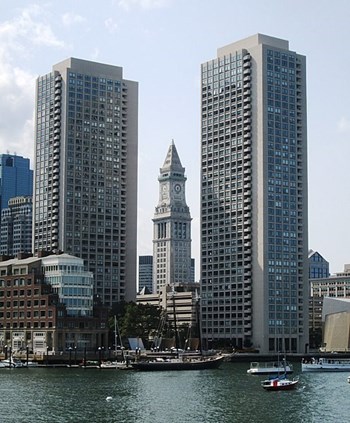 As most of the United States reaches the one-month mark under some form of stay-home directive, it has become apparent that the implications of sheltering in place are different for residents of multifamily housing than for those in single-family homes that do not share common elements. The differences are particularly pronounced in high-rise communities, where residents—as well as building staff, vendors, delivery persons, and visitors—cannot help but cross paths in hallways, elevators, lobbies, and laundry rooms. It's not hard to see how this dynamic poses challenges when it comes to keeping as many people as safe and healthy as possible.
On one hand, even when residents are committed to practicing social distancing, the physical set-up of a high-rise building makes it almost impossible to completely isolate oneself or family from neighbors and others. On the other hand, that same physical closeness and commonality often goes hand-in-hand with a social closeness and communal mentality that can help residents and employees to hang together in challenging circumstances.
Other precautions and practices must be enacted as well—and in condos, co-ops, and HOAs, the people charged with making those decisions are the board of directors or trustees. Property managers, boards, and neighbors alike face these challenges together; in so many inspiring cases, they find and implement solutions together as well.
The Case Study
At Harbor Towers, a condominium community of 1,200 residents in two 40-story towers on Boston's waterfront, working together was an operating ethos well before the onset of the COVID-19 pandemic. According to general manager Hugh Shaffer of Barkan Management, which manages communities ranging from suburban townhomes to urban high-rises in both Massachusetts and the Washington, DC area, the community's mixed demographics—which range from young professionals to retired residents—give it a rich bank of human capital, with varied skills and interests that can be applied directly to the function and activity of their buildings.
The community's 624 units include access to an open communal lawn space that features expansive views of the harbor, an outdoor pool, and gas and charcoal grills, and serves as a site for resident gatherings and events, many of which are hosted by the Towers' active social committee (at least in the BC - Before COVID - era). The scavenger hunts, sports-watching parties, summer barbeques, and concerts normally organized by the committee have moved to online events and Zoom conferences for now. The active communication committee, which had been producing a monthly newsletter about the condo's capital projects, finances, and community events, has pivoted to COVID-related content, in conjunction with the community's newly-formed COVID-19 committee.