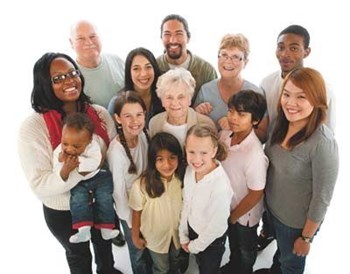 Two important shifts in U.S. demographics are playing a role in planning the future of condominium communities. First, the nation's population, including that of New England, is becoming more racially and ethnically diverse. Second, people are living longer, and many of those individuals plan to stay in their homes as long as possible.
While condo association boards and management teams already have plenty on their minds, they may find it useful to think strategically about the future satisfaction of a broader array of residents. Actions and policies that support cultural, racial, and age diversity better position the association to communicate with and retain homeowners.
From 'Minority' to 'Majority'
Over the next 20 years, the complexion of U.S. cities and counties is expected to change, in some cases dramatically. Today, four states (Hawaii, New Mexico, California, and Texas) have already seen their minority populations exceed 50 percent (no longer a "minority") according to U.S. Census data. New England states such as Massachusetts have seen their minority populations increase, a trend that is likely to continue because of falling birthrates among whites, according to Census-data analysts.
In Massachusetts, out of a population of 6,593,587, whites make up 85.9 percent, Latinos 8.8 percent, blacks 7.1 percent, and those who describe themselves as foreign-born 12.2 percent, according to Census data. The data also shows that 18.7 percent of Massachusetts' residents reported speaking a language other than English at home.
In bigger Massachusetts cities, such as Boston, Worcester, and Springfield, the increase in the number of Latinos and Asians over the past decade has been particularly marked. While the economic downturn disproportionately affected homeownership among minorities in poorer communities, according to David J. Levy of Sterling Services in Holliston, Massachusetts, evidence suggests that, in affluent communities, homeownership by Southeast Asian and other Asian groups has held steady or increased.