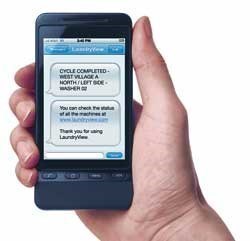 Years ago, when residents wanted to do their laundry, they grabbed their baskets, a pocketful of quarters and perhaps a good book or their Walkman and headed downstairs to the dark, dingy laundry room. A few hours later, they would return back to their units, only to repeat the dreaded trip the following week.
How times have changed. Although it's still unlikely that anyone looks forward to doing their laundry, modern technologies in the industry have made it easier for residents to forgo the quarters and forget spending hours of their valuable time waiting downstairs for their laundry to finish.
If you already have an existing laundry room in your building, but your residents are still searching for quarters, these newest features will make the residents happier — and happy residents mean more profit for the bottom line. If you don't already have a laundry room in your building, it's definitely time to consider the investment.
"In today's market, resident satisfaction reigns supreme. Renters are looking for more conveniences, more dependable services and more amenities, and laundry facilities can play a major role in how they perceive the quality of life in a housing community," says Kelli Rice, marketing manager of Mac-Gray in Waltham, Massachusetts. "And in this fiercely competitive multi-housing market, property managers and owners are discovering that with the right outlook, they can make their laundry rooms part of their overall marketing strategy."
Unlike a gym, basketball court, or theater, all residents have to do their laundry, so it's an amenity that's guaranteed to be used. "Laundry is a utility and people have to do it," says Scott Scarpato, president of Automatic Laundry in West Newton, Massachusetts. "Laundry rooms aren't even in the basements anymore. A good community room will work and the machines in the laundry room will let them do it faster and more efficiently than anything they can put in their unit. The new machines use less energy, gas and electricity."
And less water. According to the Multihousing Laundry Association in Raleigh, North Carolina, a recent national study of water and energy consumption in multifamily housing found that residents with in-unit clothes washers used 3.3 times more water for laundry than residents in apartments with community area laundry rooms. The average washing machine water use on and off site for residents with in-unit laundry facilities was 227 gallons per unit per week, while the average washing-machine water use on and off site for residents with community area laundry facilities was 69 gallons per unit per week.
According to another study by the U.S. Department of Housing and Urban Development, converting from an in-unit laundry to a common area laundry room allows owners or managers to reap the savings and other benefits without having to become experts in laundry services for their properties. In-unit washers and dryers use a lot more water, drive up overall utility costs, and can lead to flooding or other water damage. In-unit connections also require more costly plumbing, venting and electrical wiring.
The best part of a common area laundry room is the income it generates. "We provide facility outsourcing, which means that we supply the laundry equipment and lease the space in the building," says Bob Tuttle, executive vice president of Mac-Gray. "Then we collect the money and split the revenue."
In most cases, leasing laundry rooms gives property owners and managers the convenience and steady income of a residential laundry without the responsibilities or problems. There are typically no capital outlays, no coin collections, and no maintenance, except for sweeping the room at the end of the day. The laundry company takes care of the maintenance and the building collects commission.
"A typical commission is arranged 50/50, but can be lower or higher," says Scarpato. "We retain ownership of the machines. When the contract ends, we take the machines back. The contracts last a very long period of time, from seven to 10 years."
High-Tech Machines
While the exact savings vary from company to company, Rice says that high tech machines can cut operating costs significantly, potentially saving thousands of dollars each year in water, sewer and energy bills.
"The reason that utility savings is so great with new equipment is because front load washers use on average 50 percent less water than top load washers," says Cindi Schiefler, vice president of sales at Automatic Coin Laundry of Waltham, MA.
"Consequently, water and sewer costs are roughly half the cost of top load washers. Newer front load washers use even less water than the earlier front load washers that are now about five to 10 years old. The less water used, the less hot water used which additionally reduces the cost to heat water.
"The cost to operate the dryers is reduced mostly as a function of the front load washers extracting far more water out of the clothes than top load washers do," she says. "This requires a shorter dry time so less electricity and gas are required."
And buildings of any size can benefit from a laundry room. "There are stacking washer/dryer units and dryer/dryer units for any size building," says Scarpato.
Putting It on the Card
In addition to using less water, residents no longer have to worry about searching for spare change or worrying about how much money is left on a pre-paid laundry card. Most companies are now using an Internet vending solution that allows users to swipe their credit or debit cards to pay for the machines.
"Card based systems versus coin based systems are very desirable because of their greatly added convenience of not having to carry a load of coins to operate the machines," according to Schiefler. "An added benefit is the ability to adjust the charge to operate the machines in one cent increments versus twenty-five cent increments with coin operated equipment."
The card machines also provide extra security for the building. No money in the machines means no potential break-ins. "Credit card information is tracked in the system and provides owners in the building with access to reports," says Tuttle.
Check Before You Go
Years ago, residents would gather up their laundry and trek downstairs only to find out that all the machines were taken, so they'd head back to their units to frustratingly wait and try again. With the latest in laundry technologies, the Internet saves the residents much of their valuable time.
"Our LaundryAlert is a convenience for residents as they can visit their laundry room without leaving their condominium unit," says Schiefler. "The laundry room is online so that the residents can see which machines are available or in use and how much time is remaining on the cycle. The residents can also receive an email notification when their laundry is done or when machines become available."
Mac-Gray's Laundry View is another example of the same Internet technology that also provides text messaging and helps users avoid peak busy times by showing recent usage patterns for the laundry room. As a result, a resident who typically does her laundry on a busy Saturday afternoon, for example, might find that Wednesday nights are much less crowded.
And the residents might not want to leave while their laundry tumbles. Laundry rooms are no longer their dark and dingy predecessors and some owners are creating great spaces that leave their residents happy and relaxed while doing the drudged chore. "It all goes back to ensuring resident satisfaction and creating state-of-the-art amenities. We've seen everything from in-room libraries to hi-end vending machines, children's play areas and more," says Rice.
To get started adding a laundry room to your building, the Multihousing Laundry Association suggests that the primary design consideration in locating laundries should be the convenience of the residents.
For safety reasons, the room should be located near elevators or stairs or other main traffic areas, not in secluded areas of buildings or complexes and should be clearly visible. Other design considerations include style of laundry equipment, available space for the equipment, tables for folding and the size of the washers and dryers. How many washers and dryers depend on the number of residents.
Other issues to keep in mind include permits, electrical and water requirements and more. All of these and other considerations should be discussed with the laundry vendor. For more detailed information, visit the Multihousing Laundry Association at www.mla-online.com.
Lisa Iannucci is a freelance writer and a frequent contributor to New England Condominium.