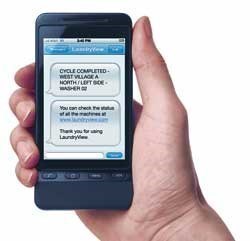 Years ago, when residents wanted to do their laundry, they grabbed their baskets, a pocketful of quarters and perhaps a good book or their Walkman and headed downstairs to the dark, dingy laundry room. A few hours later, they would return back to their units, only to repeat the dreaded trip the following week.
How times have changed. Although it's still unlikely that anyone looks forward to doing their laundry, modern technologies in the industry have made it easier for residents to forgo the quarters and forget spending hours of their valuable time waiting downstairs for their laundry to finish.
If you already have an existing laundry room in your building, but your residents are still searching for quarters, these newest features will make the residents happier — and happy residents mean more profit for the bottom line. If you don't already have a laundry room in your building, it's definitely time to consider the investment.
"In today's market, resident satisfaction reigns supreme. Renters are looking for more conveniences, more dependable services and more amenities, and laundry facilities can play a major role in how they perceive the quality of life in a housing community," says Kelli Rice, marketing manager of Mac-Gray in Waltham, Massachusetts. "And in this fiercely competitive multi-housing market, property managers and owners are discovering that with the right outlook, they can make their laundry rooms part of their overall marketing strategy."
Unlike a gym, basketball court, or theater, all residents have to do their laundry, so it's an amenity that's guaranteed to be used. "Laundry is a utility and people have to do it," says Scott Scarpato, president of Automatic Laundry in West Newton, Massachusetts. "Laundry rooms aren't even in the basements anymore. A good community room will work and the machines in the laundry room will let them do it faster and more efficiently than anything they can put in their unit. The new machines use less energy, gas and electricity."