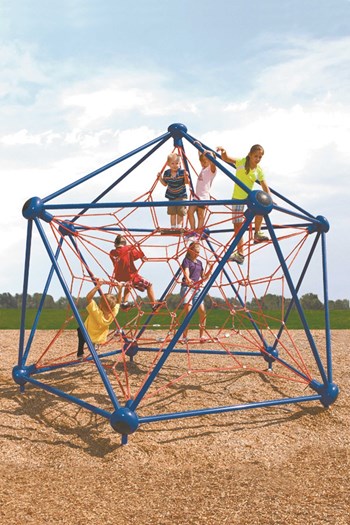 Back in the day when we were little kids, playgrounds largely consisted of swing-sets, teeter-totters, some monkey bars, and maybe a metal slide or two, along with the requisite basketball hoops and tetherball set-up.
Since then, playground equipment has come a very long way—gone are the colorless pieces of welded metal set up in merciless black asphalt. Kids today get to play on all kinds of cool, interactive equipment, and if they happen to take a spill, chances are their fall will be broken by several inches of industrial-grade foam padding instead of concrete or pea-gravel.
Swing Shift
Playground equipment began its metamorphosis from plain metal and asphalt to the more colorful, user-friendly options you see on the market today in the 1980s.
"Playground equipment began to shift away from non-powder coated, galvanized metal and wood structures in the early 1980s,' says Meghan O'Brien Taylor, CPSI, president of the Medfield, Massachusetts-based company O'Brien & Sons Inc., a supplier of outdoor recreation equipment in New England. "While many wood structures remained, there was a definitive trend toward powder-coated (factory applied paint) posts and components (climbers, monkey bars) and rotomolded slides. The biggest change came during the continuous play movement in 1981 where you had platforms at different levels with climbers, bridges and slides all interconnecting rather than a freestanding slide, a geodesic dome, a monkey bar all in different areas of the playground. Deliberately, these components were part of one structure thus causing a big movement toward the modern playground."
Industry experts say that the advances in materials and technology in the 1980s and 1990s led to a huge expansion in opportunities for commercial playground equipment.