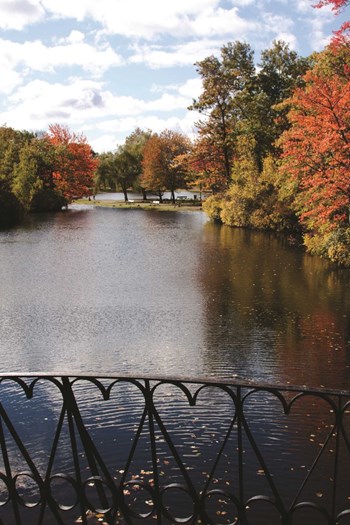 A vibrant and progressive community, Worcester is the second largest city in New England after Boston. A five-time recipient of the All-America City Award, Worcester offers its residents the resources and exciting attractions of a metropolis, balanced with the more intimate, livable scale of a mid-size city.
Known for its robust healthcare and biotechnology industries, and prominent educational institutions, high tech job growth continues to flourish in this central Massachusetts town that is home to 181,045 residents.
Worcester is also home to numerous nationally-recognized colleges, including the University of Massachusetts Medical School, Clark University, Worcester State University, Worcester Polytechnic Institute and the College of the Holy Cross. The Ecotarium, The Worcester Art Museum and the Worcester Historical Society also are just a few of the popular attractions for visitors.
Located 40 miles west of Boston and 38 miles east of Springfield, Worcester is known as the "Heart of the Commonwealth." So not surprisingly, a heart is the official symbol of the city. In a recent study, MSN ranked Worcester in the top five housing markets in the United States. Many urban dwellers are looking in this area for bigger, less expensive homes than they'd find in Boston.
According to a recent study by ePodunk, Worcester (wuuss-ter) is America's 7th most misspelled city in the country, and its name is commonly mispronounced by anyone outside of Massachusetts proper.
Let's Get This Settled
The Pakachoag tribe of the Nipmuc nation first settled in the area and called it Quinsigamond, for its nearby lake meaning "fishing place for pickerel." The lake provided ample hunting and fishing for their village, which was located near a spring on Pakachoag Hill in what is now Auburn. Mt. Wachusett was their sacred place.
English settlers came along in 1673. The modest settlement of six or seven houses was burned to the ground during King Philip's War on December 2, 1675, when settlers were either killed or driven off. The town was subsequently resettled and was incorporated in 1684. On September 10 of that year, Daniel Gookin and others petitioned to have the town's name officially changed from Quinsigamond to Worcester. The city went through a turbulent period over many years violently clashing with the Native American inhabitants, until 1713, when Worcester was resettled for the third time, permanently, by Jonas Rice. Named after the historic city of Worcester, England, Worcester was incorporated as a town on June 14, 1722 and chartered as a city on February 29, 1848.
Worcester is a city steeped in history—General George Washington rode through here, Abraham Lincoln slept here and John Adams taught school here.
Socially Progressive
The city also made major contributions both to the American Revolution and the Industrial Revolution. Considered a center of commerce, education and social thought, many manufacturers had their start in Worcester. Ichabod Washburn, an early industrialist, developed a process for extruding steel wire, and another pair of entrepreneurs founded Norton Company, which focused on abrasive grinding wheels. Today, an affiliate of Saint-Gobain, it is the world's largest manufacturer and supplier of abrasive materials for commercial applications, household use and auto refinishing. Several firms were established that manufactured looms for textile production. Textiles, shoes and clothing, wire and machinery represented the city's major manufacturing base during its heyday. Today, companies like Polar Beverages (founded in 1882), Abbott Laboratories and Hanover Insurance are commercial fixtures in the community.
Esther Howland designed and manufactured the first Valentine card in Worcester in 1847 and the Royal Worcester Corset Factory was the largest employer of women in its day when it operated in 1908. The city was also a leader in the history of women's rights as it held the first national convention for the women's suffrage movement in October 1850. Several famous abolitionists lived in the community and anarchist Emma Goldman set up shop in the town. John Birch Society member Robert Stoddard was a Worcesterite and 1960s radical Abbie Hoffman was born in town and frequented the area to visit family and friends all during his activist career.
Space Age and Dining Spaces
One of the city's more famous residents is the father of modern rocketry. Robert Hutchings Goddard is internationally recognized for his many pioneering inventions that ultimately led to the launching of a rocket into space. In all, his work encompassed 214 patents. His inventions eventually launched a new industry and changed the world. Any rocket launched in the world today employs many of Goddard's inventions. Because of his pioneering accomplishments, he is credited as the "Father of the Space Age."
On the list of firsts, the first ballpoint pen and first typewriter were invented in Worcester. The city is also known for pioneering the use of lunch wagons and lunch cars—more commonly known as diners. Thomas H. Buckley began commercial production of lunch wagons in Worcester in 1887, and some 20 years later, Philip Duprey and Irving Stoddard established the Worcester Lunch Car Company, going on to produce more than 600 historic diners from 1906 to 1957, when manufacturing of them ceased. Most of the diners are located throughout New England and some were purchased and placed in far-away locales such as Florida. The Miss Worcester Diner still remains at its original location across the street from the company factory. Miss Worcester and many of the other diners produced by the WLCC are registered on the National Register of Historic Places. The city also boasts restaurants for every ethnic taste and culture.
Housing and Recreation
Like many New England cities, Worcester has a heavy concentration of triple-deckers, in local parlance—three-deckers—three-story apartment buildings made of light-framed wood construction. They were built throughout the second half of the nineteenth century and into the twentieth century to provide inexpensive housing to the waves of immigrants arriving in Worcester each year to work in the factories.
The economic downturn has hit the city hard and bargains can be found in a down real estate market. Condos tend to range from about $50,000 on foreclosed or short sale properties to upwards of $260,000 to $300,000 for a four-bedroom. Average rents go from around $843 for a one-bedroom, $987 for a two-bedroom to around $1,100 for a three-bedroom. In 2010, the median household income was $45,679 Median income for a family was around $55,894 and the per capita income stands at around $24,470.
On the sporting front, the Worcester Tornadoes, a minor league baseball team disbanded in 2012, only to be replaced by the Worcester Bravehearts, a team made up of college players that will begin play this summer. During the winter months, residents cheer on their hometown Sharks, a professional American Hockey League (AHL) franchise of the San Jose Sharks that plays home games in the DCU Center, a 14,800-seat arena in downtown Worcester. The New England Surge, a professional indoor football team, also plays at the DCU Center. The arena additionally hosts concerts, conventions, and other sporting events. The Worcester Music Festival (founded in 1858) remains the oldest-running music festival in the United States for classical music.
Parks in the city abound and include ponds; playgrounds; baseball, softball and football fields; basketball and tennis courts and more. Worcester was a pioneer in preserving space for public use. The best known historic park in the city is Elm Park, which was redesigned by renowned landscape architect Frederick Law Olmsted, who built New York's Central Park along with Calvert Vaux. Purchased in 1854 using public funds, Elm Park is recognized as one of the first purchases of land for a public park in the country. The Massachusetts Korean War and Vietnam War Memorials are also both located in Worcester.
So whatever your pleasure, Worcester is truly at the heart of everything!
Christy Smith-Sloman is a staff writer for New England Condominium and other publications.